Driver Corrupted Expool error becomes a big problem for Windows 10 users. It is also known as the Blue Screen of Death (BSOD). Usually, this error occurs due to a bug in a device driver. It attempts to access the non-existent memory, which leads to a registry error. It is also caused due to virus or malware infection that has been corrupted, a Driver conflict after installing new hardware, Incorrectly configured, Obsolete and corrupted device drivers, etc.
To Fix Driver Corrupted Expool is an error caused by device driver issues on a PC. To fix this, Press Windows Key + X to open Power User Menu and select Device Manager. Locate the drivers with a yellow or exclamation mark and right-click on them. Choose Update Driver Software or Uninstall, depending on your situation. Restart your computer and let Windows reload the drivers automatically.
The driver_corrupted_expool blue screen error creates several problems for the users, such as a sudden shutdown of the device, the presence of pop-up messages, falling computer startup, system error display, computer freezing, browsing issues, and explorer errors. All these factors lead to the slow performance of the system. Read more in this article about this error.
See Also: How To Fix Windows 10 Startup Menu Missing?
How To Fix Driver-Corrupted Expool On Windows 10
Below are some easy ways to resolve the driver corrupted expool. So if you are also troubled by this error, you're in the right place
Uninstall The Problematic Drivers
If you are facing issues starting Windows 10 due to a driver corrupted expool error, enter safe mode. Then go to Device Manager and check out for the faulty drivers. The device that has a yellow sign will have a defective driver. To uninstall the defective driver, Right-click on the device with a yellow sign, and then click Uninstall. Then restart your computer, and Windows will reload the driver automatically.
Update Drivers For Windows 10
Driver corrupted expool in Windows 10 occurs mainly due to obsolete and corrupt device drivers. However, if uninstalling drivers doesn't work, update them. Check for the latest driver updates on the manufacturer's website. Then download and install the newly available updates.
If you have difficulty updating drivers manually, use Driver Easy to help you. It will scan your system to detect the problematic drivers and give you a list of new drivers. So if a driver corrupted a corrupted driver causes the expool error, Driver Easy will fix it shortly.
Check Out:
Update Your Windows
Installing the latest Windows update is essential for your system's smooth functioning. Microsoft regularly releases new updates to solve some common bugs. To update your Windows:
1. Press Win+ R or type Run on the start menu. Type ms-settings: windowsupdate and then click on Enter.
2. Click on Install Updates in the pop-up Windows update box and check if any updates are available there.
Run scannow Or SFC To Resolve Corrupted Files In Your System
The System File Checker is a Windows tool that helps you to scan and restore damaged Windows system files.
Remove Antivirus Software And Other Faulty Software
Sometimes driver corrupted expool occurs due to the third- party anti-virus programs. So you can always try to remove them to check out if that resolves your problem. If the driver corrupted expool blue screen error appears after the installation of new hardware or software, it was probably caused by it, so uninstall it to check if it works.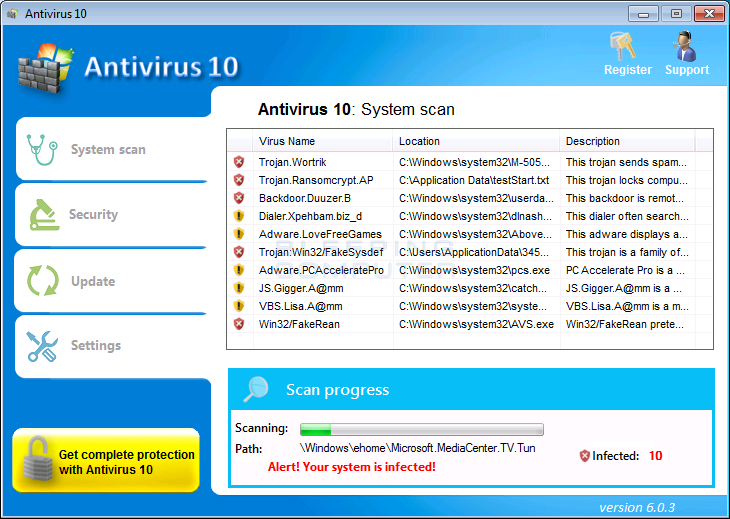 Also, read –
Use System Restore To Fix Blue Screen Error
System Restore can help eliminate many issues after Windows updates, including the blue screen error. It helps the users return to the previous state in which the PC was working.
System Restore does not affect your documents, files, or personal data but will remove apps, drivers, and programs installed after you make up the restore point.
Update BIOS (Basic Input/ Output System)
Updating BIOS is a slightly tricky task, and if anything goes wrong, it can harm your system. So it should be done by professionals only. Also, while updating BIOS, do not turn off the computer system as it may harm your system. During the update, the computer will restart, and you will see a black screen. Also, check for any Dreaded Ntoskrnl.Exe BSOD Blue Screen.
1. First, identify your BIOS version; for this, click on Windows key + R, type msinfo32, and press enter to open your System Information.
2. When the System Information window is opened, look for the BIOS version and then note down the manufacturer and BIOS version. Then go to the manufacturer's website, enter the computer serial number, and click the auto-detect option.
3. Now click on BIOS from the listed drivers shown and download the available update.
4. When the file gets downloaded, double-click on Exe file to run it.
5. Eventually, the BIOS will update, and your error will resolve now.
You shouldn't miss out – 
Reset Windows 10
You can reset your Windows to eliminate the driver corrupted expool error if the problem is related to the software. Before doing this, save and back up all the critical data. To reset, follow the steps:
1. Open your Windows 10 computer and restart it a few times until you can access the Automatic Repair.
2. Go to troubleshoot now and then Reset the PC.
3. Then select Remove Everything. Introduce the Windows 10 installation media. And click on the option 'Only the drive where Windows has been installed.'
4. Now select 'Just remove my files.' Also, this will help you remove any Windows 10 Random Restart Error or any Slow Shutdown Error in your PC.
5. Click on Reset and follow the instructions to complete the process.
Remove Some Applications
There might be specific applications that can cause the driver corrupted expool error; you need to find and remove those applications to fix the error. Though any installed application can cause this error, cut it down if you have some applications. Remove the ones that you have recently downloaded and installed or updated. Some users say VirtualBox can cause these problems, so if you are using it, remove or update it.
Lastly, fix these too – 
Try Troubleshooting
Sometimes a recent change made to the computer can cause the error so as to rectify it:
1. Restart the computer
2. Reinstall the device driver of a device that could have used with the computer recently.
3. Try to reconnect the device and make sure that it connects.
So try out any of these methods if you face the problem of driver corrupted expool and it will surely solve your problem, and your system will work as good as before.
See Also: Thread Stuck In Device Driver(Windows 10)-4 Ways To Fix
FAQ'S
How important is it to fix a Driver Corrupted Expool error?
Fixing a Driver corrupted expool blunder is essential. To begin, it can cause framework insecurity, subsequent crashes, and even information misfortune. Additionally, resolving this issue will help guarantee that your computer runs smoothly.
What are the most typical reasons why the Driver Corrupted Expool error occurs?
The Driver Expool error can occur for several different reasons. To begin, These include corrupt system files, out-of-date drivers, hardware or software that is not compatible, memory issues. Lastly, malware infections can also take place and so on.
What can I do to resolve the Driver Corrupted Expool error?
The Driver Corrupted Expool error can be fixed in several ways. To begin, you can repair system files by utilizing the built-in utilities of Windows. Furter, run a malware scan, check for hardware compatibility, update your drivers, or restore the system to a previously stable state.
What can I do to stop the Driver Corrupted Expool error from happening again?
Keep your drivers up to date. To begin, run regular malware scans. Further, ensure your hardware and software are compatible. Lastly, use safe browsing practices, and keep your system clean and optimized to avoid the Driver Corrupted Expool error.
What should I do if, despite my efforts, the Driver Corrupted Expool error persists?
Experts advise to seek professional assistance if the Driver Corrupted Expool error persists even after attempting the suggested fixes. Lastly, a certified expert or PC support administration can analyze the hidden reason and mean settling the issue.
Gravit Sinha: Founder of ValidEdge, a problem-solving website, driven by his lifelong passion for fixing issues.