Whether it is a small or large business, the importance of customer satisfaction equally matters, and for this, we use a model or an organization CRM that is Customer Relationship Management which is used to enhance client's interaction with the company and to organize past and present data records of customer's reaction, synchronize sales, etc.
Top 7 Google CRMs For G-Suite In 2023
G Suite CRM
Nethunt CRM Software
Zoho CRM Software
Pipedrive CRM Software
Freshsales CRM Software
Streak CRM Software
Agile CRM Software
Read further to know more about Google CRMs.
What Are Google CRMs?
A Google CRM, also called Gmail CRM, unifies itself with Gmail and Google'sGoogle'sf applications such as Google Docs, Go Files, Google Pay,  etc. With the help of Google CRM, the sales team can easily track the conversation and all contact information between Gmail and their CRM.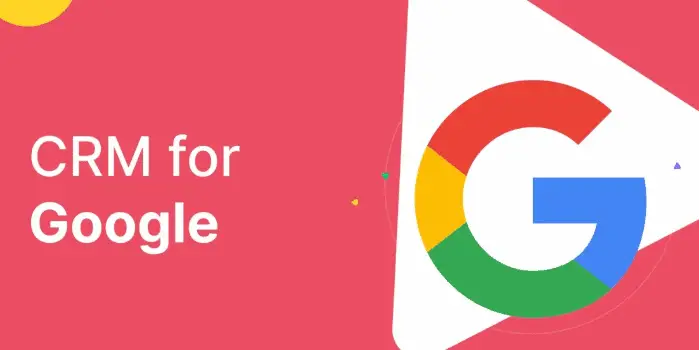 Google CRM is a must software for all business people to increase the productivity of their business by keeping a record of everything. A lot of Google CRMs are present in the marketplace here; we have compared the features and prices of each one of them and concluded that these 7 Google CRMs listed below are presently best available in 2023.
Top 7 Google CRMs For G-Suite In 2023
G Suite CRM
First on the list is popular software with extraordinary features such as documentation, fixing meetings and deals, contact records, scheduling and tracking email notifications, etc, to help you expand your business by efficiently communicating with customers. It is best suited for beginners who want to try G Suite CRM without investing money because it is free to use.
The best part is that at no cost, you can integrate G Suite CRM with many business devices and applications without any complexity. It supports all popular platforms like Android, Mac, Web-based, Windows Mobile, Windows, and iPhone/iPad and is thus ready to serve you from all fronts.
Pros
Intuitive interface.
Customizable according to a particular user
Cons
Customer Service is not up to the mark.
It takes time to integrate.
See Also: 6 Ways To Fix Spotify Error Code 3
Nethunt CRM Software
It probably contains everything that a salesperson needs in CRM and still upgrading for enhancement in performance. You can manage all your business records and combine all your communication apps in one place with the best G-Suite CRM. It's a bIt'sif you require a perfect reminder to remind you about your meetings, and you can seek all client-related details next to calendar events.
Pros
24/7 amazing customer service.
Flexible as per user.
Cons
Can integrate with one Gmail only.
Non-user-friendly interface.
See Also: Ways To Fix Google Chrome Has Stopped Working
Zoho CRM Software
It is one of the aptest cloud-based Google CRM software that offers its users G-Suite integration and additional marketing tools such as social media integration, forecasting, and sales insights. Hence, we can say that it is an all-in-one communication tool, which makes it worth its price.
With this app, you can quickly Revolutionize sales and manage your corporate contact information. Now, straightforward more deals using Zoho mobile CRM app even when you are far away from your desk and stay connected with your colleagues every time, then collectively follow marketing trends and visualize sales.
Features
Users may introduce additional leads and contacts directly from their Gmail accounts, and when they read an email, they can view all of the information or contact details.

This interface allows users to quickly arrange meetings and sync tasks between their Zoho CRM account and Google Calendar.

Thanks to the Google Drive connection, users can access all of the files in their Google Drive account within their Zoho account. Additionally, it enables them to add any Google Drive file to their CRM work.

When site visitors complete web forms, Google Ads integration enables users to add leads to their CRM databases. The most effective AdWords campaigns, ad groups, and keywords are also displayed.
Pros
Role-based security.
Time-saving.
Cons
Lacking native mobile marketing capability.
Limited storage up to 1GB.
Interesting Article: 10 Best Dating Apps in 2023
Pipedrive CRM Software
This software keeps you updated with its advanced reporting tools. It is flexible software, so you don't have to modify your system to use this app. A few of its essential features are unlimited pipelines & contacts, managing contacts, email open & click tracking, and Gmail, calendars, contacts email synchronization is also available.
Pipedrive is an intrusive app that helps you form team goals or personal goals easily and then detects whether you have successfully completed your plan
Pros
Customizable dashboard present.
Easy to use.
Cons
Email in-built is missing.
No marketing automation.
Freshsales CRM Software
It is a prominent software among all medium enterprises and small and substantial international businesses. Freshsales CRM is best for those who want to visualize their marketing sales without a hitch and send emails to most people. It allows entrepreneurs to analyze what products are going well in the market and in which direction improvement is needed to raise the company's standards.
Features
Effortless Gmail integration: Allows users to add tasks, set up appointments, and make notes while giving them a single view of all the context for each contact.

Users may effortlessly book and synchronize meetings between their Freshsales account and Google Calendar using this feature.

Thanks to the Google Drive integration, users can create and edit files, upload documents, add text to records, and create or remove rows and contacts in spreadsheets.

Features for communication: The in-app phone system allows users to place calls directly from the app. Additionally, it enables them to send messages via chat, social media, email, SMS, and other messaging services like WhatsApp and Slack.
Pros
Amazing customization is available.
Excellent customer support.
Cons
Mobile marketing and texting are unavailable within the contact record.
It cannot use on other social media platforms such as Twitter, Instagram, and Facebook.
Streak CRM Software
With a streak, it becomes easy to exceed the customers' expectations and to know whether ad campaigns are helping in leveling up a business. It also has an auto-suggest feature by which you can create diverse pipelines,  track and schedule emails, add contacts and companies, etc. If you want to manage your company's sales directly from Gmail, then this platform is suitable for you.
Features
To accommodate their changing processes, users can add, delete, rearrange, and customize the color of their pipeline phases.

Deliver users alerts and notifications when a lead or contact consumes their emails using email view tracking. They can also use it to separate opened from unread emails to determine which contacts require resending their email.

Email thread splitter: Allows users to divide email threads as the conversation shifts and splits them according to the subject addressed.
Views of customer profiles: Users can read emails with information from their pipeline. It enables them to add details to client profiles, such as the name of the business and the number of employees.
Pros
Easy to use.
Amazing customization is available.
Cons
It does not track how many people visit your website.
No native marketing automation feature is available.
See Also: 8 Ways To Fix DNS Address Could Not Be Found Error
Agile CRM Software
If you want a Google CRM with robust marketing automation,, Agile CRM would be the best choice as it is the best Google CRM with Robust Marketing Capabilities.
Its free plan offers combined features such as G-Suite integration, email tracking, lead scoring, etc. You can also integrate with LinkedIn, unlike other CRMs.
[joomdev-wpc-pros-cons disable_title="yes" title="Title Here" button_text="Get it now" disable_button="yes" button_link="" button_link_target="_SELF" button_rel_attr="dofollow"][joomdev-wpc-pros]
Features
Using the Google Drive integration, users can upload documents directly to their Agile CRM accounts. They can easily link papers from Google Drive to pertinent contacts or business prospects.

Google Contacts Syncing Provides consumers with a single point of view of their contacts in either app by syncing contacts between the CRM and Google Contacts. They can also start marketing campaigns by applying a label to the contacts synced from theirSyncgle account via Google Contacts sync.
Gmail integration: This feature enables two-way sync between Gmail and the CRM, enabling users to view their customers directly within the portal without hopping between apps.
Mobile app: Gives consumers direct access to lately accessed contacts, deals, and impending tasks via their mobile app.
Pros
Stunning Marketing automation is why well-suited for startups.
Admirable ability to integrate with third-party apps.
Cons
The live chat option is not available
Can not track website visitors
See Also: Fix Program Can't StCan'tecause D3dx9_43.Dll Is Missing
FAQs
Who will be leading the CRM market?
Salesforce will be the dominant player internationally for customer relationship management (CRM) solutions in 2021, with a market share of 23.8 percent. Salesforce is the market leader by a wide margin; SAP, Microsoft, and Oracle come next with market shares of about 5% each.
See Also: 5 Ways To Fix NVIDIA Installer Failed In Windows 10
Conclusion
In conclusion, with the help of these preeminent Google CRMs, take your business to the next level. Now, you don't need to spend your valuable money and time on research and will be able to focus on essential things. Besides their great functionality, all Google CRMs mentioned above are equally reliable. That is why we recommend you use any one of them according to your needs. Also, click here to fix if your Windows Key is Not Working on your PC.
Gravit Sinha: Founder of ValidEdge, a problem-solving website, driven by his lifelong passion for fixing issues.