So you are sitting there playing COD warzone, and you are shooting at the guy continuously, but the guy ends up killing you with just two shots! Well, then there is something wrong with your accuracy. Have you ever noticed the one guy in every game who kills you from a long-distance? Moreover, with an ordinary gun. You don't have to worry. With this article, we share tips on how to aim better in Call Of Duty.
There are so many factors that make you a good warzone player: movement, reaction time, split-second decision making but at the end of the day, you could be best in all of them, but if you are not aiming your shots and taking down your enemies, you will end getting into the lobby prematurely again and again.
For a first-time player or a veteran player looking to improve the kill/death ratio, here are undetected warzone hacks. These tips will surely help you on How to aim better in Call of Duty: Warzone to potentially see more success.
Related: How To Aim Better In Call Of Duty: Warzone
Understanding The Length And Shape Of A Thumbstick
The thumbstick consists of two components: its length and its form.
More movement control is intended for concave thumbsticks.

Domed thumbsticks are for more accurate Precision.

Short thumbsticks are for more rapid movements.

Tall thumbsticks are for providing a greater range of angles.
Selecting Thumbsticks
Short concave thumbsticks on the left and short dome thumbsticks on the right are effective for aggressive players, such as SMG players. You'll be nimble on your feet and prepared to shoot fast.
We suggest a left thumbstick that is short and concave and a right thumbstick that is tall and domed for defensive players, such as those who use sniper rifles. You can still move while retaining the highest possible level of accuracy while aiming.
To locate the thumbsticks that best suit your playstyle, experiment with different types and combinations, or switch it up when you're in the mood for something different. The appropriate thumbsticks will ensure that your aim is unsurpassed, whether it's that key moment in a 1v1 in the Gulag to get back into the game or just attempting to dominate on the field. Click here If VAC was unable to verify the game Session.
See Also: How to Fix Two Finger Scroll Not Working in Windows 10
Why Can't I Improve My Warzone Skills
You must adjust your in-game settings if you want to improve at Warzone. These typically include settings for sensitivity, range of view, aim assistance, and color. For instance, you'll need to adjust your sensitivity if you sense you're not spinning around to hit them quickly enough.
How To Aim Better In Call Of Duty
Let us now dive into the topic and see how to aim better in Call of Duty.
Select The Suitable Warzone Sensitivity According To Your Playstyle
Are you someone who likes shotguns over rifles? Or someone who loves to plan instead of taking a direct approach? Whatever your playstyle is, you need to select the correct warzone sensitivity settings to aim better.
Whether you are playing COD: warzone on the keyboard or controller, firstly choose the right sensitivity setting. Most newbies often copy the settings of other pro gamers. But, the thing is sensitivity is not a one-shoe-fits-all thing. So, you need to select settings that are perfect for you and your playstyle. With regular practice, experiment, you can tune your settings and sensitivities according to your playstyle and improve your aim in the game.
See Also: Fixed: Side by Side Configuration is Incorrect in Windows 10
Try Aiming For Headshots In The Game
Have you ever faced a situation where the enemy manages to kill you within two shots when you were firing at him continuously? Though practicing how to land a headshot perfectly will increase your kill count in the game, it requires lots of practice. Especially in a quick and close encounter.
If you are not still good with the headshots – try going for the largest surface area of the body. Yes, aim for the chest area a little close to the neck; this will give you a good chance of landing a headshot, even in a fierce encounter. This is one of many such ways to master on how to aim better in call of duty. To experience the thrill of using two screens to play games, one needs to learn to move the game to another monitor or move the fullscreen game to a second monitor. 
See Also: Fix atikmpag.sys Blue Screen of Death (BSOD) Error
Keep Your Aim Stable
Has this ever happened that you are about to finish a mission, but because of unsteady aim, you end up losing? If yes, then you need to focus and practice more on keeping your mouse stable. Especially when you have a vertical aim, try to minimize the mouse movement to as minimal as you can while firing.
Do not sway your aim, and the best way to align your aim (especially, horizontal aim!) is to practice keeping it stable and fixed during a gunfight is strafing.
Try To Aim In The Center
Another way by which you can learn how to aim better in call of duty is by trying to aim at the center.
Most of the time, whether during loot or moving from one building to another, newbies and most veteran players often make a mistake to keep their aim at the floor, which turns out to be their biggest mistake, especially during a sudden encounter with the enemy. Try to keep your crosshair aimed in the center; this will allow you to shoot down your enemies quickly.
Always keep your crosshair aimed at the center of the area from where your enemy might pop up. It will increase your chances of winning a gunfight and improve your kill/death ratio in the game. Want to learn how to write a video game script? Read This.
See Also: Fix Unexpected Store Exception Error in Windows 10
Try Experimenting With The Angles
Keeping your enemies confused with where your next point of engagement will be, is the best way to get a definite kill, and experimenting with different angles can help you out with it. Going for a prone and crouch position will help you take a steadier shot.
You can try aiming at your enemies from the top of the building in either crouch or prone position to avoid getting spotted. Additionally, getting a clear headshot. Also, mounting your gun will help you reduce recoil while firing and increase the firing accuracy along with the kill count.

Practice And Practice
Practice is a must if you are learning how to aim better in call of duty. To improve your aiming skills, all you need to do is practice and experiment with various tips and tricks. Although the best way to improve your aim is by getting into an actual battle, you can always set up AI-controlled bots to practice if you are still not confident enough.
This method will allow you to freely explore different weapons and techniques before getting into an actual battle to hit a flick shot like a pro-gamer. Click here if you are facing a steam game launch issue.
See Also: 10 Best File Manager For Windows 10/11 In 2022
Controller Vibration
OFFSET IMMEDIATELY. You are the only one who affects and might even affect your aiming and recoil management. Additionally, this advice is more than one phrase long. Ensure everything you do is regulated, slow, and not hurried or urgent.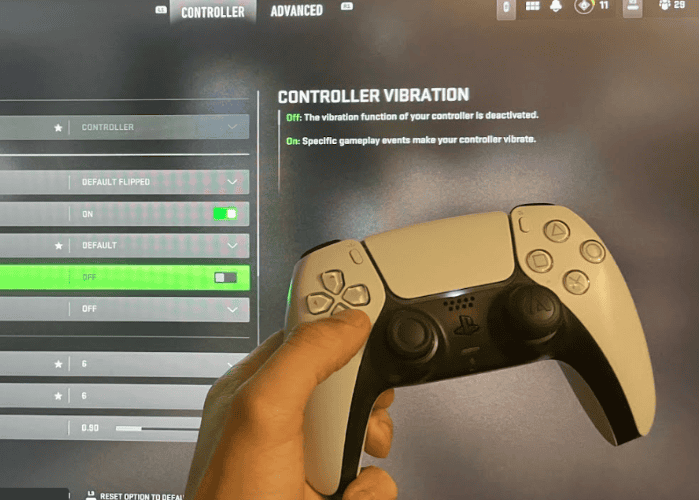 Instead of merely blasting and hoping something sticks, you need to start confidently shooting, targeting, and focusing on hitting shots. It will happen eventually; practice is the only way to gain confidence. Want to know how to close the epic Games launcher? Read This.
Best Warzone Aim Assistance Settings
Try out each option in a setting like a Resurgence to see which one suits you the best.
Although Standard is a solid choice for nearly all players, irrespective of their skill level, Precision aiming rewards the best overall accuracy and will help you train your aim to improve over time.
See Also: 10 Ways To Fix Driver Corrupted Expool
FAQs
What level of sensitivity does Warzone use?
Horizontal & Vertical Warzone Sensitivity: While standard sensitivity settings can range from 0 to 20, the top controller players in the game, on the median, set theirs to around 7.2. Your sensitivities should ideally be slightly greater than the default value of 5 but not too high that you will lose control.
In Warzone, is there an aim of assistance?
The game provides aim help for those who would rather play with something like a controller so that everything feels more balanced. Some Warzone players believe that this option makes things too simple, though.
Aim Deadzone: What Is It?
Deadzones describe a limited area around the stick where pressing it will not cause it to move. Deadzones eliminate controller drift and unintentional aim movement but can make the system less responsive. When anything accelerates, it moves more quickly the further you aim.
Conclusion
So, this was all about how to aim better in Call Of Duty: Warzone. Now that you know the secret behind a perfect aim get ready to take a perfect headshot and increase your kills in the warzone.
See also: Steam Game Won't Launch Issue | 8 Ways To Fix
You can always find me playing the piano or playing FIFA when I'm not binge-watching TV Series with pizzas. Fountainhead of TechWhoop.
Life motto: The only time success comes before work is in the dictionary.