If you have a setup of two monitors and you are finding a way to have different backgrounds on different monitors, you are in the right place. Using two monitors has always been a trend, especially for hardcore gamers, designers, etc.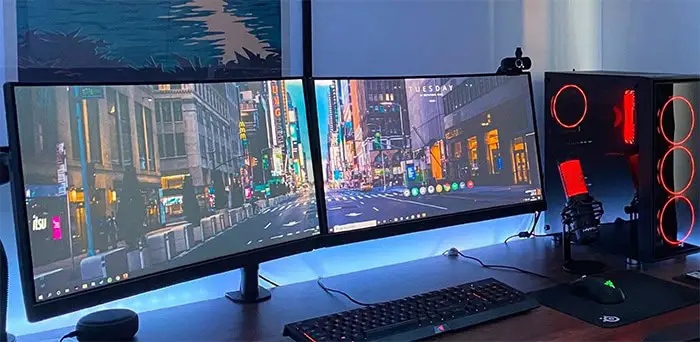 Everyone wants to personalize their displays in their way, and they also wish to have different wallpaper per monitor. Follow the methods and steps below to know how to have different backgrounds on different monitors.
Open the Settings app> "Personalization" option>Click on the "Background" tab on the sidebar. Select "Picture" from the "Background" dropdown menu. Then right-click on any wallpaper below the dropdown menu.
See also: Learn How To Put A GIF As A Wallpaper- Updated Guide 2022
Methods: How to Have Different Backgrounds on Different Monitors
First and most importantly, we want to make the best use of the time–both in reading this and down the road when you're using the methods to change your wallpapers. With that in mind, consider taking the following two scenarios.
Scenario one: You subsequently change your desktop wallpaper but would like a different background on each monitor. In this scenario, the solution given below (which is quick and uses Windows' built-in setting) is perfect as it's efficient on system software.
Scenario two: If you want to use and apply multiple and different wallpapers on multiple monitors, you want total control over that. The standard wallpaper options in Windows 10 probably won't be sufficient. If you're a wallpaper junkie or need fine and total control over the backgrounds, then the strongly recommend the venerable (and still quite useful) John's Background Switcher (free) or the Swiss Army Knife of multimonitor management, DisplayFusion (the features relevant to wallpaper management are available in the free version).
There are 3 ways to add different backgrounds on each monitor, and we can do them one by one. There are various ways to add different monitors connected to the same setup. You can use multiple multi-monitor software, but some methods don't require additional software. Using the Windows default method, you will know how to have different wallpapers on each monitor, and it's straightforward to change; follow the below steps to know how to have different backgrounds on different monitors.
See Also: 
Method 1: Set Backgrounds for Each Monitor using Settings
Windows 10 comes up with an embedded powerful settings menu. And also luckily, there is an option to change the wallpapers too. This method is restricted to Windows 10 users only, other version users can see this step and apply it on their PC, and each PC has its way of doing it.
When the Windows 8 OS came out, multi-monitor users noticed many new menu options, including a very easy-to-use multi-monitor wallpaper selection tool built right into the Personalization menu in the Control Panel. That option vanished in Windows 10, creating chaos in keeping different backgrounds for different monitors.
To start with this method, open the settings on your PC.
And then navigate to personalization > Background.
You can navigate to the background by right-clicking on your homepage and then clicking on personalization.
After that, there will be some wallpapers to choose your picture section; right-click on any wallpaper and select the monitor to set in the background. Similarly, you can add wallpaper for another monitor too.
To add a different wallpaper that is not present on choosing your picture section, go to Browse and select the wallpaper, then it will start taking effect in that section.
This is the simplest way to add wallpaper for your multiple desired monitors. You only need a collection of wallpapers, and that's it; your work will be done in Windows with different backgrounds per monitor.
Suppose you want to mix things further up. In that case, you can always select multiple images and then use the "Picture position" drop-down menu option to adjust how the image will be displayed and the "Change picture every" menu to stimulate how often the selection of photos you have been modified up.
Now let's move on to another method. This method solves how to have different backgrounds on different monitors.
See Also: Fix: Display Driver Stopped Responding and has Recovered
Method 2: Setting Backgrounds for Each Monitor using File Explorer
We will use the inbuilt File Explorer to change the wallpapers on multiple monitors for this method. As the file explorer is almost the same for all the versions of Windows, you can follow these steps in any desired version of Windows; the process is similar.
First, download the favorite wallpaper you want to apply as your background on the multiple monitors.
Then, copy the respective wallpapers on the exact location.
Select your wallpapers. ( For instance, two for two setup monitors, three for three setup monitors ).
And then, right-click on the wallpaper you want to set on the primary monitor.
Now, from the options, click on the set as desktop background.
After all these steps, it will apply the selected wallpapers on each monitor respectively.
This method works best for people with two setup monitors, and the wallpapers automatically assign one for the primary monitor and another for the secondary monitor. It will act as a sequence.
This particular method may misbehave because you have no control over the images on the non-primary monitors that will be placed. It also has two annoying shortcomings that are; If the image resolution does not match your monitor resolution, it won't work; And they will randomly rotate positions every 30 minutes. This method clears how to have different backgrounds on different monitors.
Method 3: Span Wallpaper across Two Monitors
This method is for those searching to set one wallpaper across two monitors. Spanning wallpaper makes more sense for a multi-monitor setup as they start from the same point from the secondary monitor and end on the primary monitor.
For Spanning wallpaper, you will need a total width of dual monitors. For example, if you have two monitors of 1920 x 1080 each, you need Wallpaper with a resolution of 3840 x 1080 for a dual monitor or 5760 x 1080 pixels.
Once you are done with the resolution,
Go to Settings > Personalization > Background on your PC.
Now click on the Browse option and select the wallpaper you downloaded.
It will now set the same wallpaper on the primary monitor.
Go to personalization > Background, choose the Fit option, and click on the Span option. It will automatically set the wallpaper on another monitor as well.
This method solves your question on setting a different wallpaper for each monitor and having different backgrounds on different monitors.
See Also: Generic PnP Monitor Issue- [Solved in 4 Simple Ways]
FAQ's
How do you get different backgrounds on different monitors?
Hold down the Ctrl key on your keyboard and click the different wallpapers you want to use. If you have two monitors, select two other wallpapers; if you have three monitors, choose three different wallpapers, and so forth.
How to have different wallpapers on each monitor?
For this, you can use various methods; Using Personalization Menu; Using File Explorer settings; Span Wallpaper for each monitor.
Conclusion
In conclusion, there are the top 3 methods for having different backgrounds on different monitors. You can try any of the methods and steps above and find out how to do it with the help of in-built system settings.
See Also: Windows 10 File Explorer Crashing? Here's How to Fix It
You can always find me playing the piano or playing FIFA when I'm not binge-watching TV Series with pizzas. Fountainhead of TechWhoop.