This article will discuss why Xbox won't allow you to sign in and how to fix sign-in issues. You can play with players from the largest gaming community on the most cutting-edge multiplayer network using Xbox Live when using an Xbox One. The internet service for the Xbox One is called Xbox Live. You can access the newest games, HD movies, TV series, applications, live events, etc., with a free Xbox Live account. However, the connection is only sometimes flawless. Numerous customers experience connection problems or receive a message that Xbox can't sign in with an error code, such as 0x87DD0006, 0x80048047, 0x80a4001a, etc.
Go to Xbox.com and select Sign in. Select the Start button > Settings > Time & Language if that doesn't work. If it doesn't work, select the Start button > Settings > Accounts, then find the Microsoft account you used to sign in to the Xbox app and select Remove. Check the status of the Xbox servers. Power cycle the Xbox. Log in in offline mode. Reset the alternate MAC address. Update the console. Reset the Xbox.
The Microsoft Xbox One video gaming console has many internet features. From multiplayer and cloud storage to movie streaming and Twitch broadcasts, Xbox is wholly connected to the Internet. However, connectivity is only sometimes flawless. Users frequently encounter connection errors. Users frequently experience connectivity problems or get the message "Xbox can't sign in." Also, click here to fix if you can't sign in to your account in your Windows 10.
Fixing Xbox One Sign-In Issues
Many of the Xbox One's online functions are powered by this service, but it may also make it difficult to log in. When you can't log in to an Xbox One or the console keeps logging you out, it's typically a human mistake or a problem with the Xbox network. It could imply one of the following reasons, whether your Microsoft account needs to update its billing details or your network connection needs to be fixed. To get your Xbox One back online, follow these troubleshooting guidelines.
Check The Internet
Why can't I sign into my Xbox account? A poor connection is most likely the cause of your Xbox One's inability to use specific online features or login issues. Check whether your Xbox is experiencing problems connecting to the same network as a different device, such as a computer, tablet, or smartphone.
You can be sure the Xbox is not the issue if it is. The Xbox One may have trouble logging in with a poor connection. You can see if the same connectivity issues exist on a different device, such as a tablet, computer, or smartphone. What to do if your Xbox One games take too long to Start? Read this article to learn.
Check Xbox One
Why is Xbox not letting me sign in? The most recent status of each Xbox network component is available on the official Xbox Status page. There is little you can do if the Xbox network is down other than wait for it to return online, which could take a few hours.
You cannot sign into your Xbox Live account if Xbox Live is unavailable. Your only choice is to wait for it to get online again if it is offline, which could take many hours.
Check Whether The Game's Servers Are Down
Why won't my Xbox sign in to my Profile? If you can sign in to your Xbox One but cannot start a multiplayer game, the game's servers are probably offline. This problem can be the result of scheduled maintenance or a network problem.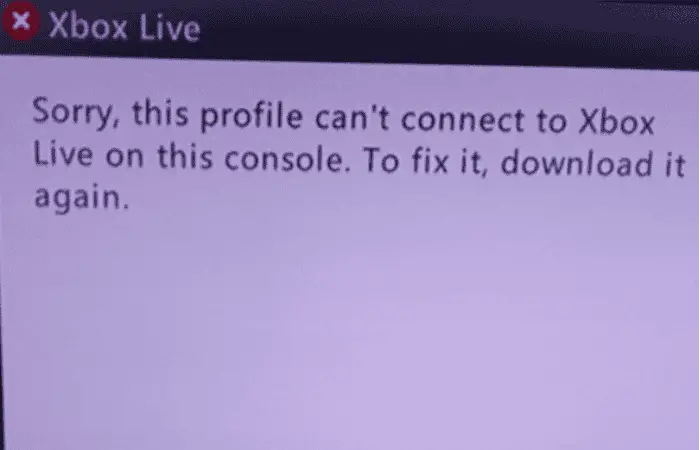 Check the official Twitter account of the video game to see how the internet servers are doing. These typically update when something happens. Xbox One game won't install from Disc? Read this.
Restart Your Xbox One System 
Why won't Xbox sign me in? Try restarting it. Like restarting a computer, restarting the Xbox One can resolve many connectivity issues.
To access the Xbox logo on your controller, scroll to the Settings tab, select Restart Console, and press A.
Power Cycle Xbox One System
Push the Xbox button on the remote for Power Center. If you want to turn off and turn back on your Xbox One, press the power button for at least 10 seconds.
A power cycle will not cause you to lose any data or downloads, but it will refresh the System and solve any issues you may have. Then select Restart from the Settings menu and select Restart Console.
Note: Keep pushing the button for 10 seconds even if the Xbox One shuts off to ensure a proper shutdown.
See Also: Fix Windows Modules Installer Worker High CPU Usage
Check Both Your Email Address And Password Twice
My Xbox One won't let me sign in if you've been signed out of your Xbox One and are having trouble logging back in. You or another party might have altered the Xbox account password. You can obtain the quickest confirmation from the official Xbox website.
Note: Remember that your Xbox account is linked to your Microsoft, Skype, and Outlook accounts. Changing the password on one service will also change the passwords on the other if you use the same Account to sign into all of them. Click here for 4 ways to fix Xbox One no signal error.
Check The Kinect Sensor's Main Light
After turning on your Xbox One system, the Kinect is no longer functional if the light is not on. If you can t sign in to Xbox One, check Kinect Sensor. You might need to replace your Kinect if it keeps malfunctioning.
Logging into the official Xbox website will allow you to receive confirmation immediately.
See Also: Fix Windows Could Not Automatically Detect Network's Proxy Settings
Sign In To Xbox Controller
Xbox won't sign into my Account. By pressing the Xbox logo on your controller, you may access the Guide, scroll to the Accounts tab on the left, select Sign in, and then press the A button. Choose that to move forward. The accounts tab should display it if you only need to inform the console which account to use.
Note: Specify the Account you want to use for the console before seeing it on the accounts tab.
Re-Add Your Account After Removing It From The Console
My Xbox One won't let me sign in. You can remove your Account and add it again if you're experiencing trouble logging into Xbox.
Eliminate Account
Press the Xbox button. Remove accounts by going to System> Settings > Account.
Select your Account, then check the delete box.
Add Account Again
Click Xbox, then select Sign in > Add new.
Enter your Microsoft account password and email address. Complete the customization options.
See Also: Windows Has Detected An IP Address Conflict
FAQs
Why can't you sign in to Xbox Console?
My Xbox one won't let me sign in. After changing the password for your Microsoft account, if you still can't sign in to your Xbox, your console may have yet to receive the new password. Try the explanations on this page to repair it. If you get a notice with an error number, type it into the search field to locate a fix for that particular issue.
How to reboot Xbox Console?
Push the Xbox button on the remote for Power Center. Then select Restart from the Settings menu. Select Restart Console Choose Restart. Retry signing in after the console has rebooted.
How to terminate the Account?
Open the directory by pushing the Xbox button. To remove accounts, select Profile & System> Settings > Account. Choose your Account, then confirm the deletion. Start the console again (see the steps in Solution 1).
How to re-add the Account?
Open the directory by pushing the Xbox button. Select Add or switch, then Profile & System. Choose to Add new. Type your Microsoft account's email and password. On the following screens, finish customizing your preferences.
See Also: 4 Easy Ways To Fix Xbox One Error 0x97E107DF
Conclusion
On the whole, it is unpleasant to have an unresponsive Xbox. However, you can divide the issue in several directions by utilizing the research covered in this article. Running the suggested remedies fixes the issue in most cases. If you can't sign into Xbox, take it easy and try these strategies to troubleshoot your problem. 
We trust you will find this knowledge useful and hope you've found the solution to my Xbox one won't let me sign in. You can resolve this problem using the techniques described here. If so, kindly let us know in the comments which of the suggested options you found most effective. Also, click here for Xbox 0x406 Error.
Also read:  6 Ways To Fix Xbox One Error Code 0x807a1007
Matt Brown: Senior editor with expertise in consumer tech, gaming, Xbox, and Windows PCs. Follow him on Twitter @mattjbrown for the latest updates.