The sound feature in Windows works only with an audio device in your system; its absence will prevent the Sound from functioning. Sometimes users encounter the No audio output device is installed error when they scroll their mouse's pointer at the sound icon, which is located at the bottom right corner of your computer screens. Due to this error, the audio feature of your Computer stops working. This error can occur in any version of the Windows Operating System, whether it is Windows 7, 8 or 10, whichever you are using.
To fix the error Locate your audio output device in the Playback tab. Right-click in Playback section and select show disabled devices if no listed devices are available. Right, click and enable if your audio device is greyed out. Afterward, select the device and click the set default button to set the device default.
The No audio output device is installed Windows 10 error occurs when your Windows gets corrupted and faces trouble identifying your Computer's audio hardware device or if the Windows Sound Drivers are outdated or corrupted. It can also happen if your Computer's Sound Jack has acquired some fault. However, it is difficult to find the exact reason behind the No audio output device installed error that causes the sound problem in your system. The sound icon displays a red cross mark on your screen during the mistake, indicating that your PC can emit no sound.
How to Fix No Audio Output Device is Installed in Windows
Many users of Windows are frequently complaining about this problem. Many methods can help you solve this problem so that your audio device feature will start working again. And if you are one of those whose Windows Sound System is not working and showing the No audio output device has installed error, you can fix your audio output device.
Method 1: Use Microsoft System Restore Feature
To fix the, No audio output device has installed error, and you can use the Microsoft System Restore feature or the HP System Recovery method. This method is a great solution to rectify the sound problem on your computer to run the sound feature smoothly again.
If you have no sound in your system and the sound icon still displays the, No audio output device is installed error, Microsoft System Restore will restore your computer system to a time before the issue occurred. This method will enable you to check if restoring the time resolves the problem.
You can also use HP Guided Solutions, which uses HP System Recovery to restore the system to a time when the issue was not troubling you.
However, if you are still unfortunate to get the, No audio output device is installed error, you might need to take it to a service centre to check the issue's problem.
Also, the error might have to do something with your PC sound card, which can cause the sound system to stop working. In this case, you might need to remove or replace the card with a fresh one.
Method 2: Reinstall the Device Driver
It is a very effective and efficient solution to fix the No audio output device with an installed error on a Windows computer. In this solution, you must remove your corrupted sound Driver and reinstall it from the Microsoft website. Follow the steps:
1. open the device manager and click on the same Sound and game controller option.
2. Then right-click on the installed Driver present there. Click on Uninstall the device driver.
3. Restart your PC and then reopen the window device manager.
4. Afterward, right-click on the blank right side of this Window. After this, click the "Scan for hardware changes" button to detect the sound drivers available.
5. If the drivers are available, right-click on them and click on install. If the drivers are unavailable here, download a sound device from an official website.
Also Read:
Method 3: Re-enable the Audio Device
By re-enabling the audio device feature, you can get rid of the No audio output device is installed error, so follow the steps:
1. At First, press the Windows + R keys simultaneously to give a Run command to the system. Type "devmgmt. msc" in the run Window and click OK.
2. Then find the "Sound, video, and game controllers" option in the displayed list and click on it to maximize it.
Click the Enable button when the pop-up window appears to enable your audio device again.
Method 4: Use Scannow to Fix the Driver
This is another solution that many users tried, and up to a great extent, this method solves the installed error of the No audio output device.
1. At First, type cmd on the Cortana search menu. When Cortana search results show Command Prompt, right-click on it, then when the pop-up Window opens on Cortana, click on Run as an administrator there.
2. There will be a UAC prompt now, and click Yes to move further. Write the command sfc/scannow and press Enter.
This command will start the scanning process, and it will detect if there are any issues with the Driver or registry.
Method 5: Update Outdated Audio Device Drivers
The sound problem that displays the No audio device has installed error can also cause by the presence of outdated drivers in your computer system that needs to replace. For this method, you can use the Driver Easy tool to scan your system's Driver automatically needs and look for suitable drivers for your system. As its name suggests, Driver Easy makes it very easy for you to escape the difficult task of finding the correct Driver that will match your Computer's needs and then download it. With the help of Driver Easy, you can update your obsolete drivers by following the steps:
Firstly, download and install Driver Easy on your system.
Then open Driver Easy and click on Scan Now option. Driver Easy will automatically scan your Computer now, and it will detect the presence of any wrong drivers.
Afterwards, click on the Update option below the Scan option to download and install the correct drivers for your system.
You can also click on the Update All option to download the latest version of all the drivers that have become outdated or missing from your PC and are not compatible with the features of your system. (For the Update All option, you need to have the Pro version of the Driver Easy tool, for which you have to pay a smaller amount of money which will make your process more straightforward and efficient).
Method 6: Change Your Sound card
Sometimes the No audio output device is installed error can occur due to any problem with the computer hardware, which means the sound card in your system could be damaged.
So, to try this method, you can go to a computer professional or service centre to get your good card changed, as it may not be possible to do it on your own without proper knowledge of the hardware.
Method 7: Repair Your Windows Corrupted Registry Database
Sometimes your Windows Registry Database can be corrupt due to the availability of any viruses or some malware on your Computer. These viruses or malware can actively harm your Computer.
So, suppose your Windows Registry Database is infected due to this. In that case, it will cause you to have driver issues even with the latest sound drivers and display such errors like No audio output device is installed error.
So, you may opt for any third-party tools amongst many available in the market as they can altogether remove your Registry issues. You can opt for the Registry cleaner tool as it will help you to repair it.
Method 8: Add a New Audio Device
To resolve the, No audio output device is installed error, go to the device manager window. Then click on the Sound, video and game controllers options to maximize it if you cannot find any audio device. Then to add an audio device, follow the steps:
1. Open the Device Manager window by clicking on the menu button, then click on Action > Add Legacy hardware option.
2. Then click Next in the Welcome to Add Hardware Wizard box, select "Search automatically for updated driver software," and again choose the Next option.
3. In this method, if no audio device is found, the wizard will help you select the audio device you want to add. Choose the "Sound, video, and game controllers" option again and click the Next button.

After this, the sound device will be on your Computer, and you can select the one and click Next to finish this process.
Method 9: Use the Audio Troubleshooter
Microsoft Windows, whether 7, 8, or 10, has a unique feature that you can name the audio troubleshooter. This feature has the specialty of automatically detecting issues concerned with audio and sound devices. You can follow the below steps to use this audio troubleshooter feature to fix the No audio output device is installed error:
Right-click on your system's sound icon that shows the red cross and the error. This icon is located at the bottom right side of your screen. Now click on Troubleshoot challenging problems option.
The audio troubleshooter feature will automatically scan the Computer for audio problems. Give some time to let the process complete, as it will take up to a few minutes.
After you finish the troubleshooting process, it will display the result and must have changed your system. Now you can check if the sound system is working or not.
You can click the Explore Additional Options button in your Troubleshooting Results box. You can move on to another method of reinstalling the Audio Driver on your PC.
Also, Check – 
Method 10: Have a look at Windows Audio Services
If your Windows computer cannot play the audio services, you might get the this error. So to resolve the error, you need to check the sound system in your computer by following the steps:
Go to the Cortana search menu, type services, and click on it when it appears. Run it as administrator.
Now the Services window will appear; search for the two windows. They are Windows Audio and Windows Audio Endpoint Builder. (These Audio services are available on Windows 10 computers. So if you are using a different version of Windows, you may look for other audio services as it depends on your hardware).
When you see these windows, ensure they are in running mode and set to work Automatically. If they are performing and running well. You can try another method to resolve the No audio output device has installed error.
Method 11: Reboot Your PC
Sometimes, this error is due to your hardware configurations being changed when loading your Windows, which creates issues with hardware such as audio devices. To prevent this issue from happening again. You must stop attaching or removing any part of your PC, like a mouse, keyboard or printer, while your Computer is booting. You may connect or remove them after the Windows is loading.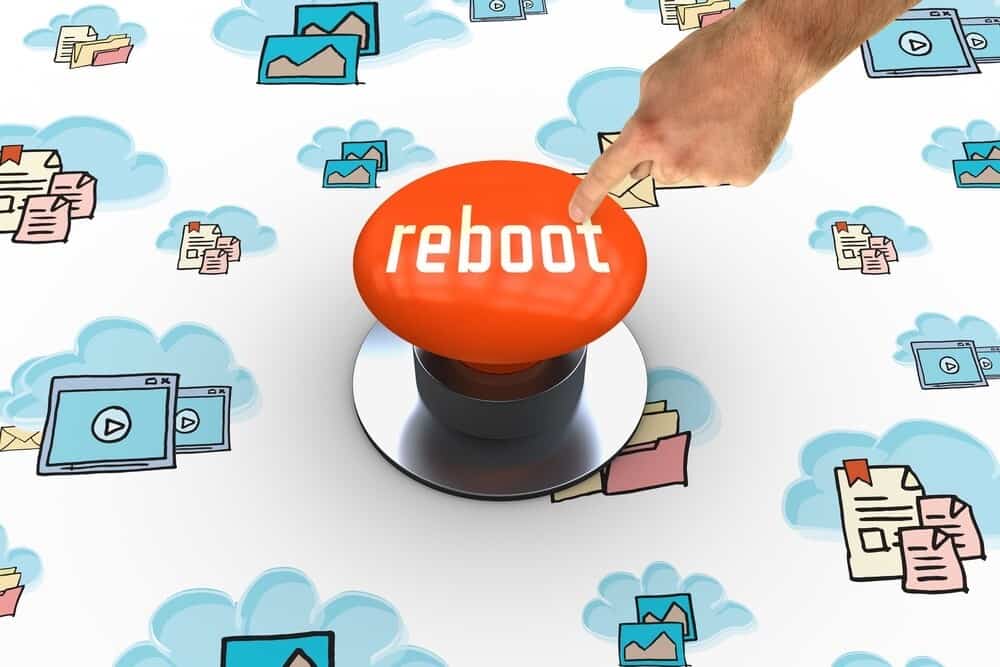 So rebooting your Computer will help Windows restore the hardware configuration and fix the problem.
FAQS
Why does it recommend there is no audio result device?
The message 'no audio output device' is frequently displayed when a device, especially a computer, cannot distinguish or connect with any available speakers, headphones, or other audio output devices. This may result from flawed hardware, driver challenges, or incorrect settings. It is essential to look into and solve these issues so that the device can handle sound playback.
No audio output in Windows 10: How can I restore it?
No audio output in Windows 10: How can I restore it? Ans. Try these actions to resolve 'no audio output' on Windows 10: Look over the speaker and headphone connections. Utilizing the Device Manager, update audio drivers. Relaunch the Windows Audio service. Launch the built-in audio troubleshooter. Verify your audio settings and choose the appropriate playback device. Re-installing the audio drivers might assist if the problem still exists, or you could hire a pro.
How can I overcome audio troubles?
To remedy audio issues, follow these instructions: Establish connections: Ensure the device's cords are properly connected to the speakers or headphones. Updated drivers: Update audio drivers using the Device Manager interface or the developer's website. Audio service restart: Restarting the Windows Audio service requires opening the Administrative Tools list. Utilize diagnostic tools: using the built-in audio troubleshooters. Adapt settings: Check audio locations and choose a suitable playback device.
What exactly is Realtek audio?
Realtek Electronics Corp built several audio gadgets and software drivers under the Realtek Audio designation. It is often incorporated into motherboards and other electronic devices which provide sound functionality. Realtek Audio drivers make it easier for Windows PC users to connect and operate speakers, headphones, microphones, and other audio devices by facilitating sound playing, recording, and management.
Gravit Sinha: Founder of ValidEdge, a problem-solving website, driven by his lifelong passion for fixing issues.