The Origin client is an online platform that offers a wide range of video games, but users have complained that they can't send friend requests to Origin or find friends on Origin. This may be due to poor internet connections or a permission-related problem within the app.
8 Solutions To Fix Origin Can't Add Friend:
Check Your Internet Connection
Run As Administrator
Disable Antivirus Applications
Clear Cache 
Turn Off Windows Firewall Defender
Login To Your Account Again
Use Login As An Invisible User
Reinstall Origin app
The Origin allows users to interact with each other, make and add friends, and play games together, and the application even offers a chat feature. It can be frustrating when you are unable to add friends in Origin. Check out these step-by-step solutions that guide you to fixing this issue.
See Also: Ublock Origin Not Working on Twitch [Fix]
Reasons for "Origin Can't Add Friend" Issue 
If you need help adding friends on Origin and are unsure of the cause, read the most frequent explanations below.
Administrator Rights: You will encounter the Origin Can't Add Friend problem if Origin isn't given the necessary permissions to access particular directories and read the storage correctly. Therefore, we advise executing Origin with administrator rights and verifying that doing so resolves the problem.
Windows Firewall: The Windows Firewall occasionally interferes with network transmissions owing to security concerns, which can result in the Origin Can't Add Friend problem. Therefore, this problem can be avoided by temporarily removing the Firewall or allowing Origin past it.
Like the Windows Firewall, an antivirus program installed on your computer may restrict you from adding friends to Origin. Therefore, briefly turning it off will enable you to ascertain whether or not that is the case.
Origin cache: The Origin Can't Add Friend problem could be caused by a corrupted cache caused by a storage failure. Since this cache will be automatically produced again, we advise you to remove it.
Installation Problems: To resolve the Origin Can't Add Friend issue, we advise you to opt into Origin's beta version or to reinstall the program. This is because the problem can arise from an incorrect program installation.
Solutions To Fix Origin Can't Add Friend

.
If you are also facing the issue that Origin can't add friends or if you can't find friends on Origin, this article is perfect for you. Here, we discuss some methods that can quickly solve the error.
Checking Your Internet Connection
The problem may arise because of poor internet connections. Ensure the connection is stable and fast, as slow connections affect the application's performance. Different ways in which you can ensure smooth internet connections are:
If the issue persists, inform the service provider, as it may be a central issue. Wireless connections can be weak and slow; a wired connection might help.
Running As Administrator
Whenever errors like Origin can't add friend occurs, check whether Origin runs as administrator.
BY allowing the app to run as an administrator, users can get special access to the app. 
Disabling Antivirus Applications
The presence of third-party antivirus programs may also be a reason why some features of the apps don't work correctly.
Therefore, disabling the program might help in solving the issue. Disable the antivirus application and check if the feature of adding friends on Origin is still blocked. If the app runs smoothly, keep the program disabled; otherwise, enable it to protect your PC.
Clearing Cache To Solve Origin Can't Add Friends 
While using an app, many unwanted data are stored, which may cause these issues. Clearing the cache is always recommended. 
A window opens. Here, leaving LocalContent, remove all other files. Again press Windows + R keys and type %AppData% in the dialog box.
Turning Off Windows Firewall Defender
When windows firewall defender is turned on, it may block the feature origin add friend. Therefore, turning it off might help in solving the problem
The first step is to open the system and security from the control panel. Here, choose windows defender firewall.
Login To Your Account Again
Relogging to the account might also help fix Origin can't add friends.
Go to the origin app, select the origin tab, and click Go offline. Go to the website of Origin and log out from there as well. Log back again to your account and try sending a friend request.
Use Login As An Invisible User.
Origin app also offers a feature known as assigned in as an invisible user.
Log out of your original account. Next, try signing in again. This time check the box named sign-in as invisible.

See if it solves the problem.
Reinstalling Origin app
If none of the above methods work, then try reinstalling the app.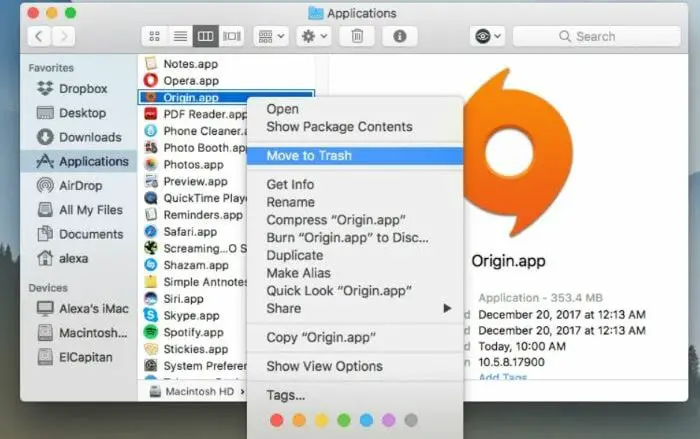 There may be some problems with the application, so reinstalling the app with the latest updates might help solve the issue.
See Also: Fix Origin Error Code 9.0 [Complete Guide]
FAQs
How To Open Origin Overlay?
Access the Origin overlay by pressing Shift + F2. The overlay feature offers an additional experience as users can access friends lists and messages without closing the game.
Why Is My Account Not Showing Online On Origin?
The issue might have arrived due to missing administrator permissions. If the origin.exe administrator is granted permission, it may solve the problem. Another way is to disable proxy servers as they may also block Origin from logging in or downloading.
Can we play Sims Even After Uninstalling Origin?
Once the Origin client is uninstalled from the computer, the user won't get access to play o download any game until the app is reinstalled.
Can Origin be used without the Internet?
Nearly all Origin single-player games are offline. When you initially start a game, it approves online. After that, you can switch Origin to offline mode.
How can I approve friend requests on Origin?
At the top of your Friends List in Origin, you ought to be able to view your friend requests. You can see the choice in the top right corner of the Origin client, but it should open instantly after launching Origin. When anyone helps you, please remember to accept their solutions and award them XP.
Why can't we send friend request in Origin?
Check all the options under 'Allow users to look for me by' and try setting the privacy settings to everyone. Additionally, you may ask a friend to search for you by heading to the friend's tab in the Origin client, selecting 'add a friend,' and then typing your name into the 'Search for friends' box.
How come Origin is in restricted mode?
How does the Restricted Access mode work? The Origin client and the game files on your computer can't be altered without your permission when in Restricted Access Mode. You must be logged in as an Administrator on your computer to download games, install updates, and make modifications to already-existing files if that feature is allowed on your EA Account.
Can players from Steam and Origin play together?
Users of Origin and Steam can play together, and if you want, can even transfer your game to Steam, though it's not necessary.
Conclusion
Now that you have reached the end of the article, we are sure one of the methods has helped you resolve Origin can't add friends.
For further information, visit the Origin website.
Indian tech news reporter at ValidEdge, covering Microsoft products. Delivers unbiased coverage of Windows error fixes and well-researched how-to guides.