Before we touch upon how to do Windows 10 incremental backup, let us understand its meaning and benefits.
What is The Basic Meaning of Backup?
In simple terms, backup means to create and save an exact copy. In computers, desktops, or laptops, all files and folders, documents, pictures, and various other data are backed up; that is, copies of these saved data are stored.
Backing up data would save you from losing important information and data during unwanted scenarios like data loss or data deletion.
See also: Windows 10 Very Slow And Unresponsive? Fix It Now!
What is Incremental Backup?
In normal backups, all the data, regardless of whether any changes/modifications are made in them or not, is backed up over and over again. Consequently, when the same data is copied multiple times, it becomes difficult to sort out the data and pick the needed files: this vast data demands a lot of disk space. To solve these problems, we have an incremental backup to save time and storage space (you can also choose differential backup). In an incremental backup, only those files that have undergone recent changes are backed up.
In other words, incremental backups save the latest version of a document or a file on your device. It's a continuous process of backing up files that have undergone changes and saving them with all the other backed-up files. It is important to remember that all these files are backed up to their latest versions. You can also view the timeline, which shows all the times a particular file was modified, and you can pick out a specific version of the file you want to work with.
Example for incremental backup: Suppose you carry out the full backup on Friday. Then, On Tuesday, all files changed or modified since Friday would be backed up. On Wednesday, all files changed or modified since Tuesday would be backed up, and so on. In this way, all files are backed up to their latest version.
See also: 4 Ways to Fix Slow Internet after Windows 10 Update
Other Types of Backup on Windows
Apart from an incremental backup, we have:
Method #0 Use Advanced System Repair Pro (Strongly Recommended)
Our tool will quickly repair common computer errors, protect you from file or data loss, malware, trojans, hardware failure and optimize your PC to boost for maximum performance. Fix PC issues now using 3 easy steps:
Download this PC Repair Tool rated as "Excellent" on TrustPilot.com.
Click on Start Scan button to find errors related to Windows.
Click Repair All to fix all issues with Patented Technologies.
Differential Backup
In the differential backup, only those files are backed up and changed or modified since the last full backup.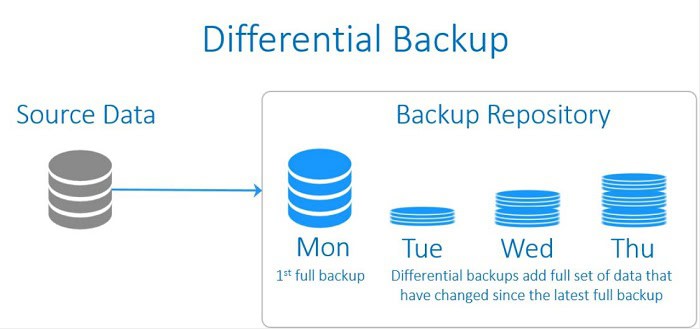 For example, let's say you performed a full backup on September 1st. On September 2nd, you back up only the files and folders that were modified since September 1st. On the 3rd, you yet again backup files and folders that were changed since September 1st. This cycle goes on until the next full backup. Check Out this article about "There Is A System Repair Pending Which Requires Reboot To Complete" Issue.
Differential backup takes up very little time and saves storage to the maximum capacity and so it can be preferred over full backups.
See also: 5 Ways to Fix Windows 10 Update Error 0x80080008
Full Backup
This is a simple or normal type of backup. Full backups are those backups in which all the data, which includes various files, applications, important folders, etc., are backed up.

Whether you make any changes in any files/ documents or not, all the data would be backed up. Full backup takes a long time and takes up more space in the device.
See also: How to Undelete Files on Windows 10 (Tutorial)
Do Windows 10 Have This Function To Perform Incremental Backup?
Windows 10 does not primarily carry out incremental backups. It does full backup, as it backs up your entire data. Using the backup and restore utility option on Windows 10 will help you back up the files you need, while file history mainly enables you to back up personal files. They do not allow you to carry out incremental backups.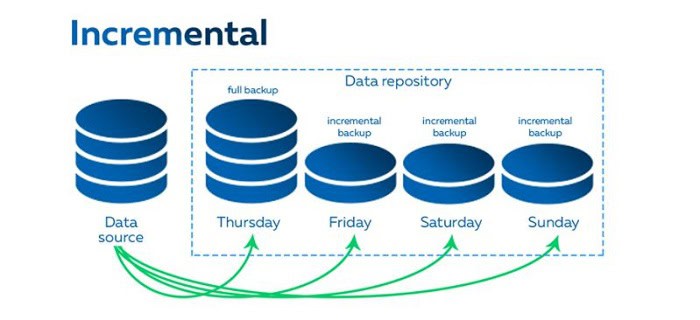 So to perform an incremental backup, you'll need third-party software. There is a variety of software's one could choose from to complete such a function. EaseUS Todo Backup, Wondershare Ubackit, and AOMEI Backupper are highly used software for this purpose. Checking reviews on quora and doing thorough research would help you choose a threat-free, secure software.
See also: Secure Windows 10 With These 8 Easy Ways
See Also: What Is A Tax File? How To Open A .Tax Tile In Windows 10?
How To Do Windows 10 Incremental Backup
Step 1
Download the software of your choice. Then install and launch the software.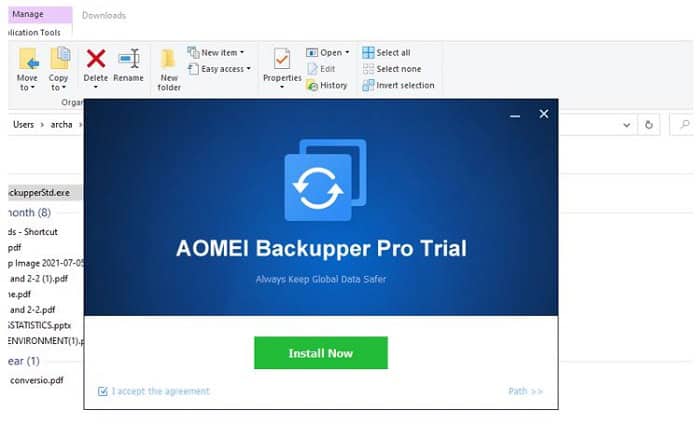 Here, we have used AOMEI BACKUPPER PRO TRIAL.
Step 2 
Click on Backup. You get to back up systems, disks, partitions, and files. Let's use File Backup as an example here for demonstration.
Step 3
Clicking on file backup will lead you to the following page.
Step 4
Click on add file or add a folder.
Select the files or folders you want to backup, as mentioned. Then choose your preferred backup destination. You can backup your data on a hard drive, USB, network, etc.

Click on add file or add a folder

Drag the important files to be backed up to the first space provided and drag the destination to the second space that will appear.
Step 5
Click on Schedule (present on the bottom left side) to set up convenient timings for the incremental backup to occur.
Step 6
In the advanced option, choose from incremental backup (this software provides differential backups as well).
Step 7
Lastly, confirm the operation and click Start Backup.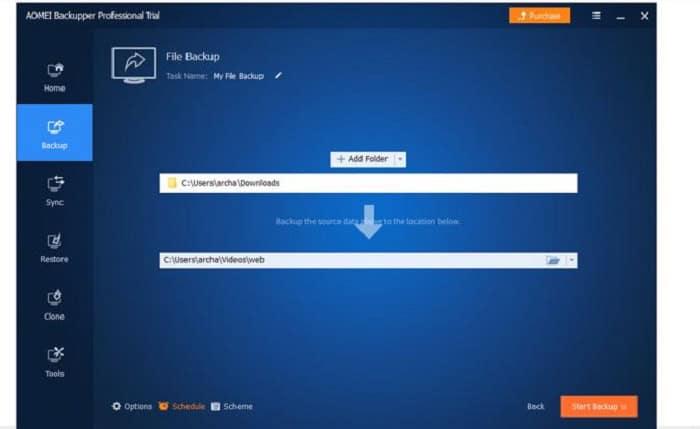 That's it! You can now successfully backup data on your Windows 10 through incremental backup periodically.
See also: Win32:BogEnt – Virus Removal Guide (Updated 2021)
Conclusion
Incremental backups do not take much time; these backups take a few minutes at most and help you store the latest versions of your data. Incremental backup takes up less storage space compared to full backups and saves you from risky situations. Data can become corrupted, accidentally overwritten, or deleted.
Related: – Why Won't My Pictures Import to my Computer? Try These Solutions!
Backing up data is very important for everyone using computers, laptops, or desktops. Backing up is crucial for ensuring your important files, folders, data, applications, media are not lost during such difficult situations. Professionals generally use incremental backup mainly because it saves time and space.
I hope this provided you with a good understanding of how incremental backup works and the true importance of backing up your data!
You can always find me playing the piano or playing FIFA when I'm not binge-watching TV Series with pizzas. Fountainhead of TechWhoop.
Life motto: The only time success comes before work is in the dictionary.