It's devastating when you are so involved in a game, and it minimizes suddenly, even though you didn't press the minimize button. Many users have recently reported that windows keep minimizing games occasionally.
Disabling the game mode is a simple fix for this. You can also try the Focus assist feature to stop the notifications. Outdated drivers also cause this problem, so fixing them might help. To stop the windows from minimizing games, you can set the screen's resolution according to the game or change the game priority to High. The best way to fix this is by turning off the windows reporting service.
See for new Windows Updates for your system from Settings. Restart your computer once and try to rerun the game/ application.
Read this page to learn more about these strategies and how to prevent Windows from minimizing games.
See Also: 11 Ways to Fix No Audio Output Device is Installed
Why Do Windows 10 Minimize Games
 The drivers are an essential communication link between the hardware and the software. They need to be updated from time to time for proper functioning. A missing or out-of-date driver may be why Windows keep minimizing games. Want to know h

ow you can write a video game script? Read This.

 

Additionally, there can also be additional causes. Such as, if you like to stream your games, the streaming applications you use might affect the game mode in windows making your game randomly minimize Windows 10. 
Windows 10 games minimize themselves when viruses attack your system.

Unneeded background programs might consume resources and cause your games to minimize to the desktop.

Various annoying notifications may also decrease your games' performance.

The Windows Error Reporting Service frequently brings on such issues.

Other services are frequently disrupted and interfered with by the Cortana service.
See Also: Fix ASUS Touchpad Not Working
Disable The Game Mode
Microsoft added the Game Mode functionality to optimize system resource allocation and boost overall performance. However, several users complained that this setting could cause FPS drops and game depreciation, especially when utilizing dual GPU. Just disable it, and you might be able to fix games minimizing windows 10 randomly.
STEP 1: To open settings, press windows + I or go to the start menu.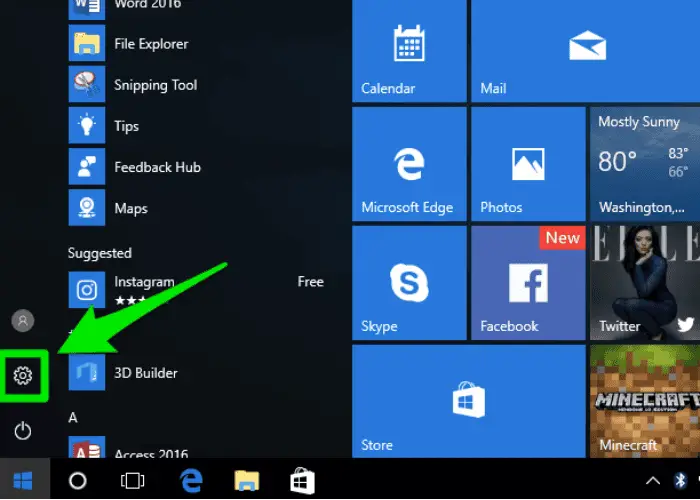 Step 2: Click on gaming, locate Game Mode, and Disable the "Use Game Mode" setting.
See Also: 6 Ways to Fix Failed to Create D3D Device
Allow Focus Assist
If the problem of windows keeps minimizing games occurs when a notification pop-ups on the screen, then turn the notifications off by turning on the focus assist, and you can solve the problem. Through Focus, assist your system in turning off the notification if you display any app on the full screen. There is a problem while closing the epic games launcher. Learn how to fix it.
STEP 1: To open settings, Press windows+I or go to the start menu.
Step 2: Select the system tab and click Focus assist. In the priority option, customize from which apps you want to see the notifications. Only allow those apps.
See Also: Discord Overlay Not Working? Here's How to Fix It!
Update The Driver Of The GPU
Graphic card drivers play an important role in providing a nice gaming experience. An outdated driver can cause a problem if windows keep minimizing games. Update it, and you will be good to proceed. Click here to learn If Xbox One Game Won't Install From a Disc.
STEP 1: Press Windows + R on a PC. The run dialogue box will appear, then type "devmgmt.msc". Click on Enter. The device manager screen will appear.
STEP 2: Click on the arrow beside display adapters, Right click on graphic card driver, and choose Update Driver.
Malware Scanning
Viruses and malware can cause many problems for you and your system if they enter your computer. To lessen the harm that viruses do to your computer, they must eliminate from the system as soon as possible.
Any antivirus programs that are currently on the market can be used to scan your system for malware or a virus. After that, you can also play a fullscreen game on a second monitor.
See Also: 3 Ways to Fix Whea Uncorrectable Error in Windows 10
Modify The Screen Resolution
The game can also get minimized by itself if the screen's resolution does not match the game's resolution. By fixing this, you can solve the issue of Windows keeps minimizing games.
Step 1: On your desktop, select Display settings by right-clicking.
STEP 2: Locate the "Display Resolution" option. Opt for the resolution that best matches your game.
See Also: Vortex Mods Are Not Working: X Methods To Fix
Change The Priority
If you haven't had any luck with the earlier-mentioned methods, try changing the priority of the game to High. Many users have also given this method a thumbs up.
Step 1: Open the desired game and click Alt+Tab or Ctrl+Alt+del to minimize it.
Step 2: you can access the taskbar by right-clicking or searching for it in the start menu.
STEP 3: Click on the Details tab, then, from the context menu, choose Set Priority and set it to High. VAC Was Unable to Verify the Game Session. Read This.
See Also: 5 Ways to Fix Audio Services Not Responding in Windows 10
Disable Windows Reporting Service
As mentioned earlier, such issues are frequently brought on by the Windows Error Reporting Service. You will solve your problem by turning the windows reporting service off. 
STEP 1: Press Windows + R on a PC. The run dialogue box will appear, then type "services.msc". Click on Enter.
Step 2: Find the Windows Error Reporting Service, right-click on it from the context menu, select Properties, and press on disable. Hit ok.
Step 3: To make the modifications effective, restart the computer now. How to Steam Run Game as Admin? Complete Guide.
See Also: 7 Ways to Fix Moto 360 Not Charging Error
FAQs
Why do my windows 10 keep minimizing games?
Numerous things can cause it, such as an outdated driver, malware infection, background assaults, streaming software, low CPU priority, the Cortana service, notification pop-ups from multiple programs, etc.
How can I prevent my computer from minimizing games all of a sudden?
You can follow any methods mentioned in this post to stop this problem. Please choose one of the seven methods described in the post best suits you, then apply it to your system by following the instructions.
Can a borderless window affect the FPS of my game?
Mostly the borderless window does not cause any problems of such sought. However, the borderless window may decrease your FPS if you work on multiple tasks simultaneously.
How come Windows 11 keeps minimizing my game?
In Windows 11, this happens mostly due to the unsuitable resolution of your screen and the game. You can repair it by navigating to the display settings and altering the resolution appropriately.
Conclusion
These are the simplest solutions to the Windows 10 game-minimizing problem.
Aloukik Rathore is a Delhi-based entrepreneur, musician, writer, and tech nerd. He has been blogging for about 7 years now.