This article was developed via a partnership with BetterHelp. People accumulate bad habits and get stuck in unhealthy routines frequently, but that doesn't mean you have to settle and not take action.
Some of the Best Behavior Tracking Apps To Change Your Life are BEHCA Behavior Tracking Software, Behavior Tracker Pro, Coach.me, Thumsters, etc.
Whether it's for you or your kids, this article will share some of the best behavior-tracking apps to help you become aware of behaviors and work towards changing them so you can feel happier and healthier each day. Keep reading this article to know more.
See Also: Top 11 Health Apps For Overall Health to Use in 2023 (validedge.com)
List of Best Behavior Tracking Apps
Here are some of the best behavior-tracking apps to help you improve yourself as a person.
BEHCA Behavior Tracking Software
BEHCA offers services that benefit individuals, families, and teams who want accurate, comprehensive data about behavioral change. Personal subscriptions aren't free but affordable for those who want to track their behaviors over time and other variables that can influence them.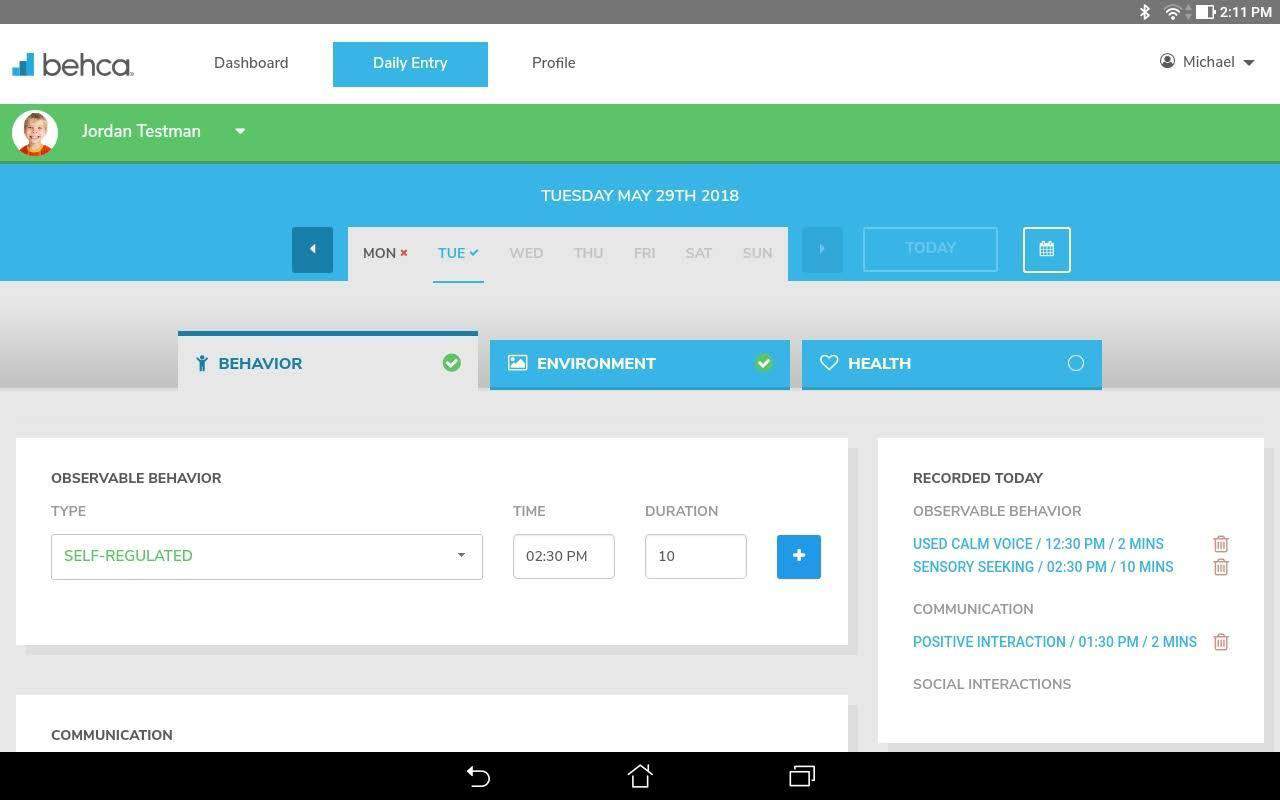 It is one of the most thorough and professional behavior software around.
Download for ios|Download for Android
Behavior Tracker Pro
Used by teachers, therapists, and other professionals, Behavior Tracker Pro, or just BTP, is another popular behavior-tracking app effective for children and adults who want to manage behaviors with graphs. Other excellent features can help you record behaviors, such as video capture.
Unlike BEHCA's monthly subscription fee, BTP has a flat cost. However, it is unavailable for Android devices.
See Also: 5 Best Android Spy Apps Without Target Phone
Habit Tracker
Not everyone needs a complex tool to start making positive changes; sometimes, simple can be better. After all, being overwhelmed is the last thing you want. Are you looking to start controlling your frustration this year, or do you know someone who needs some guidance? These anger management apps can be a great help in various ways. The Habit Tracker app is very helpful in this regard. 
It lets you track common changes people want to make, such as eating better, exercising, and sleeping more.
Habitica
Who says behavioral change can't be fun and doesn't need to be a chore? Habitica is one of the free behavior-tracking apps that essentially works as a game, and as you continue to make progress, your character or avatar will too.
Of course, by being productive in your daily routine, you can also reward yourself outside of the game. Read this article if you want to design games for many gadgets, including phones and game consoles.
Download for ios|Download for Android
Thumsters
Another game-based app designed to help monitor and change behaviors is Thumsters. This app is made for kids. While you most likely won't be using it for yourself, this one can be a great help if you're a parent. If you want to save your child, you must spy on his/her social media account, such as Instagram. It will help you to guide them about right and wrong content for Instagram.
This app is for you if you want to reward good behaviors and start reducing bad ones. Overall, this will increase your parenting quality of life. 
Download for ios| Download for Android
Rooster Money
While the previous app is mainly for children, an app that both kids and adults can benefit from a lot is Rooster Money, which teaches financial responsibility. Anyone can take advantage of learning how to manage their money better. 
For some people, getting into this habit can be a significant modification that brings positive life-changing results.
Download for ios|downlaod for Android
Reclaim.AI
Although most behavior-tracking apps have some feature that helps you plan things out to get into the habit of building positive changes. Reclaim.AI is one of the best things to organize your habits and other tasks.
It is one of the most useful behavior-tracking apps. What's also nice is that it syncs with Google Calendar, too, so you can have everything in one place.
See Also: Fasting App: How To Keep Weight Off For Good (validedge.com)
Coach.me
Lastly, although this app has many similar features as the others, one aspect that helps Coach stand out the most is that you can access personalized feedback from expert life coaches who specialize in productivity, dieting, fitness, mindfulness, and much more. 
Having advice from an actual individual can make all the difference in helping you commit to making lasting changes, which is why this is highly recommended.
Download for ios|Download for Android
More Resources On Behavior
Human behavior and other psychological topics can be complex and exciting. So if you're interested in reading more about them, BetterHelp offers free, in-depth articles exploring behavior and other areas that can help you better understand yourself and others.
Additionally, as mentioned before, finding personalized advice from a qualified individual can be just what you need to change your life. BetterHelp can connect you to licensed and professional counselors and therapists who can guide you to reach your goals.
FAQS
Which behavior-tracking app is the best for productivity?
Several productivity tracking apps are available; the best depends on individual preferences. Some popular options include Todoist, Trello, Forest, RescueTime, and Habitica, each offering unique features to enhance productivity and task management.
Are there behavior-tracking apps specifically for fitness and exercise?
Yes, there are behavior-tracking apps dedicated to fitness and exercise. Examples include MyFitnessPal, Fitbit, Strava, Nike Training Club, and Runkeeper, which allow users to track workouts, set goals, monitor progress, and provide motivation.
Can behavior-tracking apps help with habit formation?
Yes, behavior-tracking apps can help form and track habits. Apps like Habitica, Loop Habit Tracker, and Streaks enable users to set goals, track progress, and receive reminders, fostering habit formation and accountability.
Are there behavior-tracking apps for improving sleep quality?
Yes, there are behavior-tracking apps focused on improving sleep quality. Examples include Sleep Cycle, Pillow, SleepScore, and Sleep as Android, which track sleep patterns, provide insights, and offer features like intelligent alarms and relaxation sounds.
Are there behavior-tracking apps for tracking spending and budgeting?
Yes, there are behavior-tracking apps focused on tracking spending and budgeting. Apps like Mint, YNAB (You Need a Budget), PocketGuard, and Goodbudget help users monitor expenses, set budgets, track savings, and improve financial habits.
Can behavior-tracking apps sync data across multiple devices?
Yes, many behavior-tracking apps offer synchronization across multiple devices. By logging in with the same account, users can access and sync their data seamlessly between smartphones, tablets, and computers, ensuring consistent tracking and monitoring.
Conclusion
Change doesn't happen overnight, but the sooner you start, the sooner you'll start making results. Having behavior-tracking apps in your home can make it much more seamless. Hopefully, you'll find precisely what you're looking for here.
See Also: 10 Best Dating Apps In 2023 | Top Hookup Apps Reviewed
Mauro Huculak: Technical writer specializing in Windows 10 and related technologies. Microsoft MVP with extensive IT background and certifications.