Hey Legion! Do you know how to change the League of Legends language? Let us help you with the same if you need clarification. Find your answers in this article.
To change the language in League of Legends using in-game facilities,
1. Launch the client-server of Riot Games, but do not log into it
2. You'll see the personal assistant icon
3. Go to settings and go to LoL
4. Choose a language
5. Click repair, and you are done!
This would change your game language to what you prefer. But this is not all; it would only show you limited options. There are many other ways and techniques to change your language in LoL, even those not a part of your region.
If you are on any other website, you might want to check this out about how to get unbanned from LoL. So, let's learn them. Remember that you must not skip any part of the instructions, especially in the third method.
Available Languages (2023)
You must know your options before learning to change language in League of Legends. Languages are available in LoL based on your region. But you may also choose some languages outside of your area. Here is a guide on why is my Xbox so slow.
The following languages are a part of the League. They are ready to use and available as a drop-down menu.
English
Portuguese
Turkish
Japanese
Chinese
German
French
Italian
Spanish
The list can go on further. You can easily use these languages in the game without any cumbersome processes. Don't worry. We also have other ways to incorporate languages unavailable in your region.
If you are interested, you can view this guide. Now, let's head toward how to change the League of Legends language.
See also: League Of Legends Report: Comprehensive Insights And Analysis For 2023
Methods on how to change League of Legends language
Here, we have three ways that are suitable for three unique purposes. All these methods have helped people out in the past. To get the League of Legends language change, you must follow the given procedures:
In-game Setting
1. Launch the client-server of Riot Games, but do not log into it
2. You'll see the personal assistant icon.
3. Go to settings and go to League of Legends
4. Choose a language
5. Click repair
After doing so, you will see your set language in the game. You can now play the game according to your set language and see all instructions similarly. This is one of the ways to change the language. There are other ways, too. Let's learn them.
Visit: How to Change to ANY Language in League of Legends [Updated 2023]
Using Client
You may also change League language by using the Riot client server.
1. Open the server but stay logged out.
2. When you stay logged out, you will see an assistant
3. Clicking on the person figure would lead you to settings
4. A tab called "Riot Client Language" would open.
5. Select a language there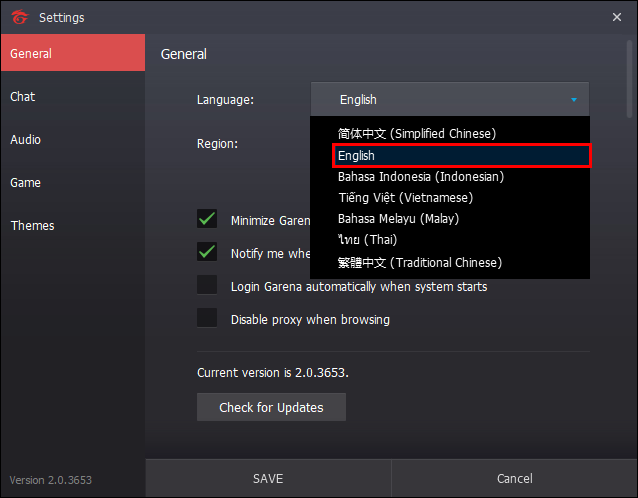 This changes your client service language to the language of your choice. Now, every instruction and guideline has been translated into a different language. Let's take another way around on how to change the League of Legends language on your PC.
See Also: How To Fix Avast Blocking League Of Legends (LOL) Launcher
Out of Region Languages
If you want to know how to change the language on League of Legends into a language that is out of your region, you must take these steps:
1. For this method, you must log into your Riot account.
2. Don't log out from the Client. Just close it.
3. Now, reach the configuration folder about LoL. You will find this after you open the folder of Riot Games.
4. Here, you will find a folder named LeagueClientSettings. This is a Yaml extension file.
5. You have to open this file using a text editor. You have the freedom to choose any text editor you want.
6. Here comes the tedious part wherein you have to look for what locale pertains to your language and then swap it with the language written in the text file. The language will be marked as locale: You have to write the locale of your language here.
7. Ensure saving the text editor file to make the changes.
8. Return to the app and make a shortcut on the desktop.
9. Open the properties of the new shortcut and head to the box called "Target". In this box, you have to swap the locale code too.
10. Ensure that clicking the apply changes option saves the LoL language change.
11. You have to open the game only through this shortcut you curated rather than through the source of the installed game.
You must have realized that it was a lengthy and confusing method. This happens because this is not something that Riot Games allows. You must know how to change the League of Legends language into an out-of-the-region language.
See also: League Of Legends Not Opening | Top 5 Fixes
FAQ
Can I switch the LoL language to Korean?
Yes, if the Korean language is used in your region, you may use the first two ways to adopt it in the League of Legends. However, if this language is unavailable in your region, you can use the third method of the article.
What makes LoL special?
The money-making opportunity League of Legends provides a fantastic aspect of the game. It transforms the game from a simple game with good graphics and a basic storyline to a career opportunity for many players worldwide.
How many players play LoL in a day?
The league has around a million daily players who engage with the game with perseverance and emotion. Many sites are tracking daily players of the game, but people have yet to find the exact answer for what is the number of players who play League of Legends (LoL) on a daily basis.
Which is better? LoL or Dota?
Each game is similar and different in various aspects. No one is capable of drawing any stark contrast between the two games. There is always a difference of opinion on the games' experience, features, graphics, and overall flexibility.
Which is easier? LoL or Dota 2?
Players who have played both games believe that LoL is more accessible than the latter. The number and variety of championships, the more straightforward designs, and the storyline are the fundamental factors contributing to this opinion.
Did Dota 2 come later than LoL?
Dota was developed before League of Legends, but the former game's second issue came after a decade. League of Legends emerged on the earth's surface in 2009, but Dota 2 was conceived in 2013.
Conclusion
You now know how to change the League of Legends language. You came across three methods and learned all of them. The first method was more straightforward, but the third was beneficial, ingenious, and tricky. You knew that all languages are generally a part of the League and how your region plays a role. We also learned about the three top methods of changing the language of the game on your PC, depending on your situation. You also got to know what you can do if you want to install a language that is not a part of your region. Gaining insight into the other users' questions was another aspect we covered in this article. Now that you know everything you need to know about changing the languages in the League, you are all set to go and change the game as you like it.
Gravit Sinha: Founder of ValidEdge, a problem-solving website, driven by his lifelong passion for fixing issues.