Imagine you are watching One piece or Tower of God but interrupted by numerous annoying Ads. And even though you have your AdBlock on, Adblock not working Crunchyroll is the most irritating and most commonly faced problem on Crunchyroll.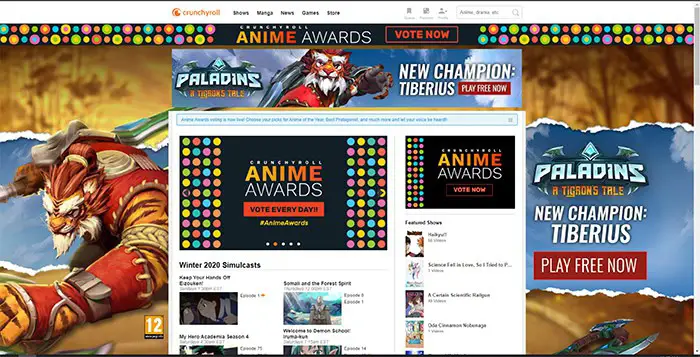 Tried many Adblocks and still have trouble blocking ads from your Crunchyroll, this article helps, to suggest a few methods to get rid of Ads in Crunchyroll using a few techniques and processes.
Viewers love to watch anime on Crunchyroll, but the constant bombardment of unnecessary Ads creates infuriation among fans. And Crunchyroll does not have a default way of blocking Ads. Crunchyroll has also other errors like 502 and Ads plays major trouble.
And the same time, Crunchyroll is a cross-platform application; it also has its versions in Android and iOS and also a web version.  You are tired of searching how to block ads on Crunchyroll on google and never found a solution, chill. Below are the following ways to overcome ads and to watch your favorite shows on Crunchyroll without Ads.
How to Block Ads on Crunchyroll?
These are the following ways to AdBlock on Crunchyroll.
Method 1: Update your Adblock Extension
Crunchyroll domain keeps on adding different methods to overcome and bypass Adblock. An outdated Adblock extension will not be able to avoid ads with newly applied methods by Crunchyroll. In that case, an updated Adblock extension may help you surpass Ads. Make sure you have the Adblock extension available on your wings. Even Adblock plus not working on Crunchyroll and Adblock not working on Crunchyroll; this method applies.
Firstly, Launch Chrome and click on the

three dots at the right top

and then go to

More Tools

.

As soon as you enable it, you will have an

update

box now; click on update

to update all the extensions

.

After completing the update process, relaunch chrome and then open Crunchyroll to check. If not, try re-installing your Adblock extension.

Open More tools>Extensions, find your Adblocker and remove it.

Open Chrome web store, search adblocker, and add that to your extensions.
Mainly, relaunching your chrome after updating the AdBlock extensions fixes the problem.
See also: How To Fix AdBlock Not Working On Twitch
Method 2: Try a Browser with an In-Built Adblocker
If you are still facing issues, try using a different browser – Preferably with Adblocker in it. In that case, opera is a go-to solution for that. It has an inbuilt adblocker that works better than extensions and gets rid of Adblock not working on Crunchyroll
Select Blocks Ads and surf the web up to three times faster. It turns blue when the toggle is switched on.
And that's it, close the settings and try Crunchyroll. Short and Sweet, right? Opera is one of the best browsers to watch content Ad-free.
Method 3: Block the Ad Source in the host file 
Challenges make life enjoyable; in that way, this process is a bit complicated and should be done with attention to detail as it involves editing Sys32 files. 
Then bypass your host files directory. Located in –

C:\Windows\System32\drivers\etc
In these files, select the "host" file.

Now at the host file, create a new line and enter

127.0.0.1 static.vrv.co

on the empty line, then select

File

>

Save. 

Then save and close your document.

Now open Crunchyroll; this step directly blocks the host of Ads so they will not display on your system again. Simple yet complicating and this will help on Adblock not working on Crunchyroll. Make sure you do with utmost concentration, system 32 files are quite sensitive may corrupt the PC.
Method 4: Use Developer Tools
If your adblocker extension could not block ads on Crunchyroll, then we can use developer tools of the browser to stop ads from loading by blocking the website domain that is used to bombard the ads.
Launch Chrome and open Crunchyroll.

Now right-click on the page and select "Inspect".

Thirdly,  press Control+Shift+P to open the Command Drawer.

Now type "Show Request Blocking" and enter.

In the new tab, check the option of "Enable Request Blocking"

Click the add button and type "vrv.co" and click Add
Keep the developer console open and check if the problem is solved.
Keep in mind that you should keep the developer console to keep it working and see Crunchyroll without ads.
Method 5: Try a Different Ad Blocker
There are numerous Adblock options on the web. A few examples are:
Adblock

Adblock Plus

uBlock

uBlock Origin

AdGuard

StopAllAds
You can use the above Extensions for your Adblock; some Adblock is not working on Crunchyroll before trying to ensure you read the reviews, and also it's trustworthy or not.
After adding the extensions from the Chrome web store, make sure you do the same steps that were done above, many extensions are available at the chrome web store, you can add them depending on your need.
FAQ's
Why am I getting Crunchyroll ads?
Getting ads on Crunchyroll is expected; it's a combination of Ad revenue and subscriptions.
Are Crunchyroll ads dangerous?
Not all of them, of course. But there were cases reported when ads on Crunchyroll caused the incoming of viruses.
Can Crunchyroll ads cause malicious?
If you quickly google the matter, you will see forum messages saying that it is still possible, albeit infrequently, to catch malware when clicking the ad on Crunchyroll.
How do I block all ads?
Watch Crunchyroll in the browser and use the browser extension.
How do I get away without an adblocker?
1) You can try to play with the settings of your browser and enable pop-up blocking features it has, but you'll still hardly stop most of the ads. 2) You can purchase subscriptions for the services where you want to block ads. But this will intends more money to protect every source from ads, and other websites still won't be ad-free.
Are ad blockers legal?
Totally. You can visit the internet about the legal battles of Eyeo (owner of the ad blocker). The supreme court of Germany ruled according to the adblocking company. So, according to the court decision, ad blocking is legal.
Are ad blockers safe?
Yes, if you are using the ad blocker made by a trustworthy developer. Do not download any ad blocking tools from unknown sources; do it directly on the developers' websites. Even in the apps and extensions stores, bypassing a fake ad blocker that might collect and sell your data is a risk.
Do ad blockers track you?
No, if you use the adblocker from the trusted developer and have installed it from a legit source. Usually, with the paid adblockers, you have nothing to be afraid of, as their monetization source is clear, while free adblockers might be tracking you and selling your data.
Conclusion 
In conclusion, Adblock not working on Crunchyroll can be resolved using the above method and other similar methods. You can enjoy your favorite anime on Crunchyroll without any hindrances. Most ad blockers at present work well on Crunchyroll, but if yours stops working, try one of the above fixes. If nothing else works, you can choose to buy a subscription or use free trials to continue binge watch on your favorite anime.
Matt Brown is a senior editor. Following six years of professional consumer technology and gaming coverage, he's focused on the world of Xbox and Windows PCs. You can follow him on Twitter @mattjbrown.