We all are on our hustle and the move, day after day, pushing through our struggles. Something essential to break free and believe in yourself is your Spotify playlist. While you sweat profusely and for long hours at the gym, do you realize how important Spotify is? And what if you face Spotify error code 3 while playing music on Spotify?
You might opt for different sources, but don't find them as appealing and strong as Spotify! Fear not, if you face your errors, we are here to debug them, and we'll do them together through this article!
What is Spotify Error Code 3?
Spotify's Error Code 3 is one of the many glitches users face while trying to log in to Spotify. It is pretty common compared to the other errors you will face on Spotify.
It might just say, "Username is incorrect," or "Password is incorrect" or something too generic. In truth, the situation is more complex than what it says.
How to Fix Spotify Error Code 3?
There is nothing to worry about since we'll guide you through the different ways to fix this error and get back onto your go-to artists!
Method 1#  Reset Your Password With Your Registered Email
Let us say you have registered to Spotify through your Google account. Now, open Gmail and look for your reset password link. You will easily find one and go to the link and change your password to something that is strong and can easily be only be remembered by you.
In case you do not find any old reset password link or had not tried to change your password before, simply go to the 'Forgot Password' option or the 'Reset Password' option on your Spotify Home Log in the window. This will prompt you to check your registered mail for the reset password link. And from here, you can easily do the necessary.
Method 2# Finding Your Right Username
In case you had trouble logging in from your smartphone or any other device, you can follow this way to know if you are entering the right username to log in to Spotify.
Open www.spotify.com on your Desktop/Laptop on which you have already logged in on Spotify.
Navigate to the Account section from your home screen.
Copy the right username and then transfer it to the device you are signing in from, or rely on your memory and type the right username and password in.
In 3 simple steps, you have successfully overturned Error Code 3!
In case you are facing more trouble, Method 3 will surely fix your woes!
Method 3#  Resetting Your Password through the Spotify PC Application
This step is similar to the one above but takes another route to fix the case.
Open the Spotify app on your computer.
Go to the Account section following the steps mentioned in Method 2.
It will open your My Account on your browser, on which you can make your necessary changes.
Once the web page loads completely, go to the 'Edit Profile section.
You can instantly fix your Error Code 3 by resetting your password.
PS: We know it can be a drill to make a new password, but it is necessary to change it now and also to keep changing it regularly. If you have trouble remembering it, write it down and place it somewhere you can access it.
You Might Be Facing: Unidentified Network No Internet Access in Windows
Method 4# Enter ONLY the Username and Not the Entire Email ID
Some users who complained about Spotify Error Code 3 had been entering their usernames in an incorrect manner:
Spotify does not consider your email address a valid username, even if it is the one your username is registered with.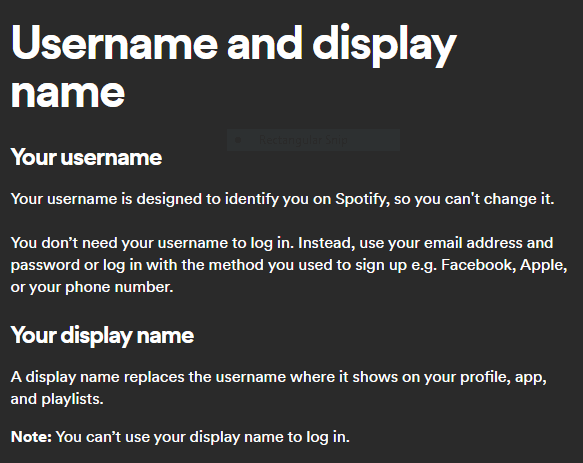 You only have to enter the 'username' part because that is the authentication the Spotify app will verify with its databases. Just enter your username as is, hit the correct password, and see if this fact is as susceptible as it seems.
Moreover, Spotify will not be able to pinpoint if the error is in the username or in the password, so it could be a major possibility that this error could occur as it would not find the right password to an existing username or the wrong password to a found username, which is a conundrum.
Method 5# Use the Authentic Version of Spotify
One guy on Reddit found this solution to tackle Spotify Error Code 3. More than half of the globe uses the cracked version of Spotify to avoid paying for Premium (which is considerably affordable for the realms and weight of music offered). And due to this, they use cracked versions of Spotify. As a result, any type of log-in done on the cracked app is deemed illegal and will yield errors if detected as a cracked version.
First, you must uninstall the Spotify app installed on your phone. Next, go to the Play Store or the Spotify website through your device/smartphone and install the right app, which is the latest and suitable for your version of OS. You can also download authentic android apps for PC from Browsercam. Once you have installed the latest version, the stakes of overcoming and fixing Spotify Error Code 3 are soaring high and way stronger than before!
You Might Be Facing: Unfortunately, Google Play Services Has Stopped
Method 6# Match the System Requirements
Sometimes, we never notice if our phones are bogged down with unnecessary videos and media that consume so much space and get no trace of Cholesterol, Fat, or Diabetes! But it surely gets a Spotify Error Code 3 when your app cannot trace the root of the problem. These are the system requirements and minimum criteria to run Spotify on your devices:
These changes are dynamic, so keep an eye on Spotify's website for all the changes!
It is usually the free space that can cause this ruckus of an error in Spotify Error Code 3. So, head to your Settings and start eliminating your unnecessary files.
Once you have sufficient space, try logging into Spotify on the app. If the problem persists, try uninstalling and reinstalling Spotify on your phone again, since you have cleared and made sufficient space for it to run smoothly.
FAQs
What is Spotify Error Code 3, and why does it happen?
Spotify Error Code 3 is a typical issue that keeps clients from signing into their Spotify accounts. This error typically occurs due to incorrect login credentials or network connectivity issues.
How can I fix Spotify Error Code 3 permanently?
To fix Spotify error code 3 permanently, follow these steps: Make sure Spotify is up to date, uninstall and reinstall the application, temporarily disable your antivirus or firewall, delete cache and cookies, and run Spotify as administrator. If the problem persists, please contact Spotify Support.
What should I do first if I encounter Spotify Error Code 3?
When stuck with Spotify Error Code 3, the initial step is to double-check your login credentials. Make sure you have entered the correct combination of username and password. Additionally, ensure that your internet connection is stable.
What other troubleshooting steps can I take to fix Spotify Error Code 3?
Besides checking your login details and internet connection, you can try a few things to fix this issue with Spotify. One option is to clear the cache of the Spotify app. You can also update the app to the latest version or completely reinstall it. These steps often work and help you regain access to your Spotify account.
Are there any advanced solutions for permanently fixing Spotify Error Code 3?
You can try more advanced methods if the basic troubleshooting steps don't fix the problem. For example, you can turn off any VPN or proxy services you're using, temporarily disable your antivirus or firewall, or adjust your device's date and time settings. These advanced techniques can help overcome errors and provide a more robust solution.
Conclusion
You can now enjoy endless hours of sophisticated music genres, explore new artists and albums, and check out what your friends are listening to! We hope these ways will fix Spotify Error Code 3 and fill you with abundant happiness and music! That's all, folks! But we assure you that we will keep the road running with more tech tips and tricks!
See Also: Best Folder Lock Software For PC | Top Picks Of 2023
Gravit Sinha: Founder of ValidEdge, a problem-solving website, driven by his lifelong passion for fixing issues.