Best USB Bootable Software: Back in the day, to install an operating system or create a rescue disc, you had no option other than to burn the operating system onto a CD or a DVD. There's nothing wrong with that method except that the technique is clunky, time-consuming, and not user-friendly.
Rufus, UNetbootin, RMPrepUSB, Universal USB Installer, and Yumi are some best USB Bootable Software for Windows.
Then USB flash drives came to our rescue, and one day, we burned to a CD for the last time and didn't realize it because flash drives had already established themselves. USB flash drives are much more comfortable to use. Also, USB flash drives are reusable, unlike CDs or DVDs, and when your work is done, you can format the flash drive and store something else on it.
Top 7 Best USB Bootable Software for Windows
Here we provide the 7 best USB bootable software for Windows.
1. Rufus
Rufus is one of the Best USB Bootable Software for Windows. It is a utility that helps format and creates flash drives such as USB pen drives, memory sticks, etc. It is beneficial when you need to create a USB installation media from bootable ISOs or work on a system that doesn't have an OS installed. You can also flash a BIOS or other firmware from DOS and run low-level utilities.
You don't need to install the software; you can just run it from the exe file. Moreover, it is free and open-source, and the community actively encourages developers to add patches to the source code. It supports the USB type C, which is fast replacing types A and B and is becoming the new standard.
Also, Check- FFXIV Unable to Download Patch Files
2. Windows USB/DVD Tool
Windows USB/DVD, as the name suggests, can be used to create both bootable USB and DVD drives. Just download the ISO file and run the tool. Once done, you can install Windows OS directly from the USB Flash Drive or DVD. But as easy and convenient as the tool is, it is not customizable.
You cannot change the file system or the partition scheme, create extended labels or check bad blocks. And the tool supports only Windows 7/8/8.1. If you don't mind the lack of customization and complexity, this tool is for you.
See Also: [FIXED]: Microsoft Error Code 0xc1900200 | Quick Guide 2023
3. Universal USB Installer
As its tagline says, Universal USB Installer is as easy as 1,2,3. It is a bootable USB creation tool that lets you create almost any bootable USB media, and it is available both for Linux and Windows. It is effortless to use. Select the operating system from the drop-down menu to create the bootable media with appropriate settings, select the ISO file, your flash drive, and hit install.
The Installer will do the rest of the work for you, and upon completion, you will have a ready USB flash drive with the OS of your choice. There are many other features like Persistence, Antivirus utilities, and system diagnostic tools, but these features will work only with Linux. This tool, too, will, of course, work with USB-type C ports.
Related Issues: How to Temporarily Disable Avast Antivirus
4. RMPrepUSB
RMPrepUSB is a highly customizable and feature-rich bootable USB creation software. With this, you can create almost any type of bootable USB media. It lets users quickly test, partition, format, and install a boot manager. It can also extract and copy files and test a multiboot USB bootable drive. You also get options to make or restore images and so much more. Check This cloning software for Windows to back up the images.
It is safe as it only lists USB drives that are less than 128GB by default so that you cannot accidentally format your USB backup drive. It's also compatible with a wide variety of PCs. Another advantage is that RMPrepUSB provides a test environment using a QEMU emulator to try it out before running it on a real system. However, RMPrepUSB has a steep learning curve and is not easy to use. It is recommended for those who know what exactly they are doing.
5. WinSetUpFromUSB
This is another popular and feature-rich bootable USB media creator for Windows. It prepares a multiboot USB flash drive or fixed disc to install any version of Windows. You can create multiple sets of Windows setup files, and you can also create a program that allows creating a USB disc that can boot both in BIOS and UEFI.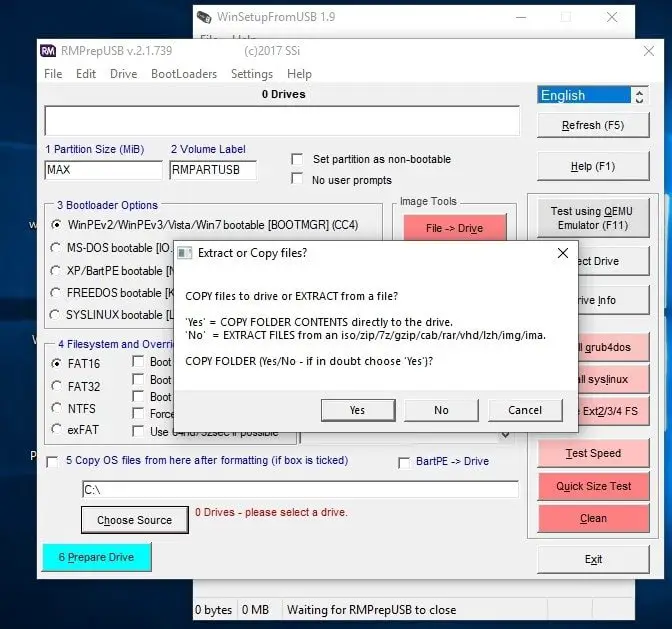 You can also create bootable Linux distributions using IsoLinux or SysLinux. The user interface is pretty simple and, at first sight, does not seem to have many options or customizations, but you can access more options by clicking the "Advanced Options" checkbox. Moreover, you can also run this software on a QEMU emulator. It will also support USB-type C ports.
6. WinToUSB Professional
WinToUSB is perfect when you need quick plug-and-play bootable USB software. It has a user-friendly interface that lets you create a Windows Go To directly from ESD, ISO, SWM, WIM, VHD, VHDX image file, or CD/DVD drive.
It can create a bootable Windows PE USB drive that lets you transfer the contents of a PE image to a USB drive and make the drive bootable. However, you need to purchase this software. With purchase, you also get free technical support whenever you want. It is available for windows vista, XP, 7,8, and 10.
If you are feeling tired – Best Dating Apps in 2022
7. UNetBootin
This free Best USB Bootable Software has a collection of pre-defined distributions and system utilities. It is similar to Universal USB Installer but is not as intricate and has fewer options than UUI. The software is available for Windows and Linux, but with separate files for each OS.. It has an option of selecting a distribution from their database and of uploading the ISO file locally.
You don't need to install the software but can run it from the exe file. It has an easy-to-understand and straightforward interface, making it even better for the users as it has no learning curve and is excellent for all users. It will work with the USB Type C port, thus making it even more popular.
FAQS
What are some popular USB bootable software options?
Some popular USB bootable software options include Rufus, Etcher, and UNetbootin.
Can USB bootable software come in use on any operating system?
Many USB bootable software options can be used on multiple operating systems, including Windows, macOS, and Linux.
How do I use USB bootable software to create a bootable USB drive?
Creating a bootable USB drive typically involves selecting the desired operating system, choosing the USB drive as the installation destination, and following the software's instructions.
Are there any free USB bootable software options?
Many USB bootable software options are free, while some may require a one-time payment or subscription.
Can the USB bootable software come in use on multiple computers?
A USB bootable drive created with USB bootable software can typically be used on multiple computers as long as the computers meet the system requirements.
Can it come into use for non-technical purposes?
USB bootable software can come in use for non-technical purposes, such as creating bootable drives for game consoles and media players.
Gravit Sinha: Founder of ValidEdge, a problem-solving website, driven by his lifelong passion for fixing issues.