Ticketmaster Error 401 Not Allowed: Ticketmaster is an American sales company for tickets to various events.  It provides tickets to its customers for the events with the help of organizers. Therefore, we can infer that it works as an intermediary between event organizers and the customers. This company was established in order to curb ticket bots, thus providing fair profit to organizers and an excellent price to the customers.
The company tickets vary in price depending upon the event organizers' status and demand of performers in the event. Thus, Ticketmaster allows the customers to get their tickets quickly without being a part of a large queue. The pricing system of Ticketmaster includes the price of the event along with the service charges and the delivery charges of tickets and venue charges.
This system makes the tickets quite expensive. Also, Ticketmaster is quite stern to its customers, and they go through hard identity-checking of their customers to avoid any kind of theft or misconduct. This is the reason for the simple network and memory issues of the system can also work as one of the causes of Ticketmaster Error 401 Not Allowed.
Causes for Ticketmaster Error 401 Not Allowed
A lot of causes have been found for the Ticketmaster Error 401 Not Allowed issue, but on a broad note, this is caused due to the following reasons: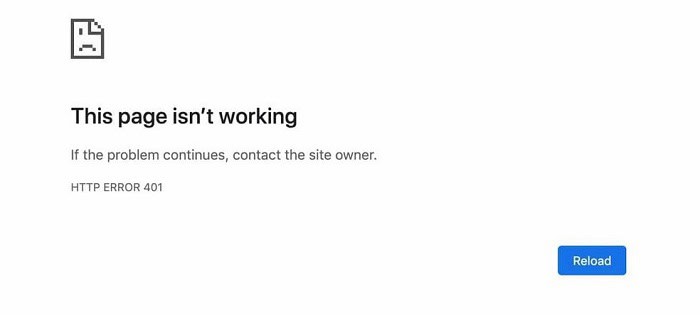 Use of Proxy servers
VPN client connections
Simultaneously opened multiple tabs in the browser.
Inappropriate network connection
A huge amount of cache in the browser
5 Ways to Fix Ticketmaster Error 401 Not Allowed
Based on the causes of the Ticketmaster Error 401 Not Allowed issue, there are certain methods to fix it which have been discussed below. You may find one or more methods to be useful, based on the cause of the issue.
Also Read:
Method #1 Fix Proxy Servers
A proxy server is a device that is used by internet service providers. This device helps you to have faster access to your requested websites. It receives your request for websites and on your behalf requests to the website without revealing your IP address.
This might modify your IP address in order to hide your identity. And also increases the bandwidth of your request frequency. However, sometimes it might work as a loophole in leaking your information is accessed by any unauthorized person.
Thus to counter this data misuse and ensure strict identity norms, Ticketmaster does not allow access to the users having a proxy server. All you have to do is switch off this device from your system.
Steps to be followed are:
Go to the Control Panel of your computer system.

Control Panel

Proceed to LAN or respective networking option.
Under the automatic configuration heading, deselect the Proxy Server and select the Automatically Detect option.

Select Automatic Detection Setting

Restart the computer system and try again to see if the issue has been fixed.

Restart PC
Method #2 VPN Client Connections
VPN is a virtual private network. It works by connecting target websites with its nodes. However, VPN is considered illegal in many countries since it is very easy to steal data from any open node in the network. This data intimacy is not acceptable by Ticketmaster, which is the reason for Ticketmaster error 401 arising. You can turn off the VPN connection of your system by following the given steps to fix the issue:
Open the Start menu and Search Control Panel.

Windows Start and Search

Open the Control Panel of your system.

Control Panel

Click on View Network and Internet.

Open Network and Internet

Disable the connected VPN network.

Disconnect VPN
This would fix the issue for sure if VPN was the cause of the issue.
Also Read:
Method #3 Close the Multiple tabs in your Browser
Opening multiple tabs in your browser is a poor habit to follow. It causes unnecessary wastage of data speed and memory of your system. Not only Ticketmaster but almost all applications suggest closing unnecessary tabs to avoid inconvenience.
Most people ignore multiple tabs opened simultaneously in order to quickly move to the next page, but it is a long-term affecting fault. To counter this problem, you have to follow the given steps:
Open your web browser.

Open Browser

Close all the unnecessary tabs.

Close Unnecessary Tabs
Method #4 Inappropriate Network Connection
Sometimes, the Ticketmaster Error 401 Not Allowed can be due to an inappropriate network connection. The Ticketmaster checks every aspect of their customers to avoid even a bleak chance of misuse or theft of their facilities. Thus if you have a weak network connection, it might seem doubtful on the parameters of Ticketmaster. This may end with a crash message of Ticketmaster error 401 not allowed on your system. Here are steps to fix this issue:
Refresh your network connection.
Check proper connection and range of WiFi.
If everything seems in place, disconnect and then reconnect to the network.

Refresh Internet Connection
This will most probably fix the Ticketmaster Error 401 Not Allowed issue, but in case it doesn't, you must go to the next method.
Method #5 Check For Cache Data And Cookies
Cache data is helpful in having a better browsing experience. Every time you visit a website for the first time, the data is sent to your cache memory for storage. It is in order to easily provide the data whenever you request again. Though it is a good step to make browsing a better experience yet, it proves to be the cause of issues.
Cache data is useless after some time period. If removal of this data is not done, it can reach up to several Gigabytes, thus making your system immensely slow. These memory consumptions make your system response slow, which causes the Ticketmaster Error 401 Not Allowed issue. So, it is important to regularly clean this cache data from your system. The steps to follow are:
Go to settings in your computer system.

Open Settings

Look for the Storage tab under the System Setting and open it.

Open Storage

Select free up space and clear the cache.

Clear Up Space

Restart the computer system, if required.

Restart PC
Read More:
Conclusion
These were the best fixes to deal with the Ticketmaster Error 401 Not Allowed issue on the computer system. The solutions for the major causes are accompanied by an explanation!
Gravit Sinha is the founder of ValidEdge. Ever since he was a kid, he has been a problem fixer and that passion is what inspired him to start and grow this website! 🙂